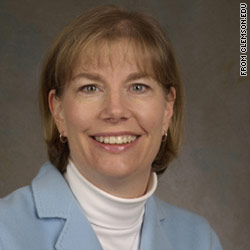 Susan Limber: The professor in Clemson University's Institute on Family and Neighborhood Life devotes her efforts to the prevention of bullying and other forms of aggression toward children. She oversees the Olweus Bullying Prevention Program, which has certified more than 700 trainers who can travel anywhere on a moment's notice.
The program, used in some 5,000 schools across the country, also houses the largest bullying database in the United States - more than 750,000 students who have been surveyed about their experiences and attitudes.
Limber, a professor of psychology, told CNN on Tuesday, "Bullying can be prevented. Although being harassed or bullied continues to occur, we should not accept that they are inevitable experiences. We do know that we can reduce bullying through efforts to change the school culture. It's not easy. It wouldn't happen over night, but we've seen success all over the country."
Limber also was a consultant to the Stop Bullying Now! public information campaign, which the U.S. Department of Health and Human Services supports.
 Olweus Bullying Prevention Program Web site
Lloyd Marcus: The activist, author and composer of the "American Tea Party Anthem" says that he was wrong about President Obama's race not being an issue.
In the American Thinker, Marcus writes, "The mainstream liberal media has been relentlessly badgering the Tea Party movement with accusations of racism. Because I am a black Tea Party patriot, I am bombarded with interviewers asking me the same veiled question: 'Why are you siding with these white racists against America's first African-American president?' I defend my fellow patriots who are white, stating, 'These patriots do not give a hoot about Obama's skin color. They simply love their country and oppose his radical agenda. Obama's race is not an issue.' "
Marcus, who was born in Baltimore, Maryland, and lives in Deltona, Florida, continues, "Recently, I have come to believe that perhaps I am wrong about Obama's race not being an issue. In reality, Obama's presidency has everything to do with racism, but not from the Tea Party movement. Progressives and Obama have exploited his race from the rookie senator's virtually unchallenged presidential campaign to his unprecedented bullying of America into ObamaCare. Obama's race trumped all normal media scrutiny of him as a presidential candidate, and most recently, even the Constitution of the United States."
Marcus blogs that he is traveling with the Tea Party Express bus tour as it heads toward Washington.
American Thinker: The Progressives' perfect Trojan horse
Archbishop Jerome Listecki: The archbishop of Milwaukee, Wisconsin, apologized repeatedly Tuesday night for the way his archdiocese handled an abusive priest, and he defended the Vatican, which has come under fire for not disciplining or defrocking the man.
"Mistakes were made in the Lawrence Murphy case,"Â Listecki said at the end of a special holy week Mass at St. John's Cathedral.
Murphy, who died in 1998, is believed to have molested up to 200 boys. The Vatican said it did not know about the abuse until 20 years after civil authorities investigated and later dropped the case.
"Even though some do not want to hear it or accept it as truth, mistakes were made by law enforcement, medical professionals - even reporters who helped bring initial stories to light and grappled with how to deal with perpetrators," Listecki said. "We have all learned so much."
CNN: Archbishop: Mistakes made in priest sex abuse case
The Rev. Mimi Walker: The Georgia Baptist Convention wants to remove the Druid Hills Baptist Church in Atlanta from its rolls because its co-pastor is a woman.
WSB-TV in Atlanta reports the convention's executive committee made the recommendation to sever ties this month with the church, where Walker and her husband, Graham, have been serving for two years as co-pastors.
"We are keeping faith with the Baptist faith and message with regard to women serving as pastor," said J. Robert White, the convention's executive director. "The GBC has never been opposed to women serving in ministry positions other than pastor."
But Mimi Walker, a former missionary in the Philippines, told The Atlanta Journal-Constitution, "It seems sad that they decided to go backwards in time. I'm not sure what the value is of trying to go back in time when women were held in subservience."
WSB-TV: Church may be cut because pastor is woman
The Atlanta Journal-Constitution: Southern Baptists may cut Druid Hills church
Brad Stevens: The 33-year-old Indiana native is coaching his Butler Bulldogs in the school's first ever Final Four, just six miles from campus at the Lucas Oil Stadium in Indianapolis. Stevens was hired three years ago, and he managed to recruit a bunch of players from the basketball-heavy state to play at Butler.
The Indianapolis Star reports that Stevens has more victories in his first three seasons than any coach in major college history, with an 88-14 record. Butler is where the final scene in the movie "Hoosiers" was filmed, and now the team is the tournament's darling.
Stevens told The New York Times, "It's OK to call us a midmajor, by the way, Cinderella, whatever you want to call us." A former marketing associate from Eli Lilly who quit to volunteer coach at Butler in 2000, Stevens added, "We still get to play." Butler takes on Michigan State on Saturday night.
The New York Times: Butler goes home to Indianapolis for Final Four
The Indianapolis Star: Hiring a young Stevens pays for Butler