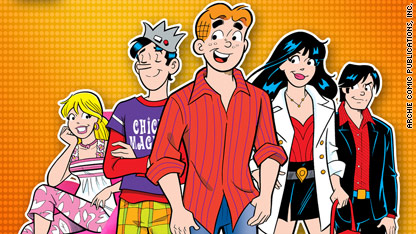 Here's a quick glance at the collective consciousness of the Web on Friday:
Archie: Archie just got a little more this-century. When was the last time he was the topic of watercooler and Web conversation? A long time ago, that's for sure. But Riverdale High School, the stomping ground of comic book legend Archie Andrews, is opening its doors to its first openly gay student - and for that, it is getting a lot of attention. Kevin Keller will be the new student to join Archie, Jughead, Veronica, Betty and Reggie.
Tim Tebow (and the NFL draft): Last night was one of the wildest NFL drafts in recent history, according to many sports writers and bloggers, and Web users and sports fans couldn't agree more. Nearly half of today's Google trends center around the draft, especially quarterback Tim Tebow's selection in the first round by the Denver Broncos. And although some sports writers may have been surprised, it seems Bronco (or Tebow) fans are thrilled. The trend "Tim Tebow broncos jersey" is just as high today on Google as anything negative.
Lane Bryant and the Ashley Graham ad: There's lots of chatter today about an ad from a company you might not expect to generate controversy. But that's exactly what happened with Lane Bryant's lingerie ad, which features plus-sized model Ashley Graham and was deemed  too racy to air on ABC and Fox. Lane Bryant calls it "sizeist," and on the web, the discussion has people split. Many seem to believe that not running the ad was an issue of size, while others are calling the whole thing a publicity stunt by Lane Bryant. Watch more about the controversy.
#Blippy credit card info: A Mashable blog post has sent the Twitter world into a tizzy - and for good reason. Mashable reports that "several credit card transactions shared on social networking site Blippy have been exposed — with full credit card numbers included — in Google search results." And that information has caused great concern among social networking users about whether other services may have similar problems that they just don't know about.