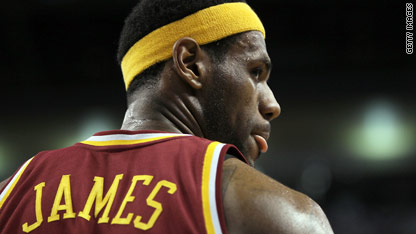 The NBA season started in October and ended two weeks ago with the Los Angeles Lakers' stirring victory over the Boston Celtics in one of the most-watched championship series ever, but the most anticipated event on the league's calendar gets under way at midnight Wednesday when several superstar free agents, led by LeBron James, can start to meet officially with any team that wants them, and a lot of teams want them.
James has only made one public comment about what he might do, telling CNN's Larry King this month that the Cleveland Cavaliers, the team he's played for the last seven years, has the edge in signing him but hasn't come close to committing. That's left plenty of room for speculation.
Stephen A. Smith of Fox Sports says James is going to sign with the Miami Heat, Jonathan Abrams of The New York Times quoted a league executive this weekend, who says the Chicago Bulls are the front-runners. Sports Illustrated's Ian Thomsen has details of how the New York Knicks plan to woo him. And The Cleveland (Ohio) Plain Dealer's Brian Windhorst on Tuesday said the Cavaliers are still the front-runner.
In all, five of the NBA's 15 all-league players from this season plus several other stars are free to change teams. The rules say nobody can sign a new contract until July 8, so expect a flood of speculation, stories and maybe even some scoops in the coming week.
For all the latest on James and the other NBA free agents follow the LeBron James Watch on SI.com.