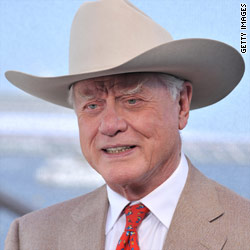 Larry Hagman
The actor known for portraying the scheming Texas oil baron J.R. Ewing in the classic prime-time soap opera "Dallas" has become a solar energy pitchman.
The Oregonian newspaper reports that Hagman, 78, has recorded commercials for SolarWorld, a German manufacturer of solar cells in Hillsboro, Oregon. The company is using a slogan that parodies Sarah Palin's famous "Drill, baby, drill" declaration from the 2008 presidential campaign. "'Shine, baby, shine' is an inexhaustible source of energy," said Hagman, who boasts what may be the country's largest residential solar energy system at his home north of Los Angeles, California. "When affordable oil gives out, we're in real trouble - I mean the collapse of civilization, within 15 to 20 years," he said.
Hagman told the newspaper that his push for solar energy solutions is not only about finding alternatives to fossil fuels. "We've got a work force that's looking for jobs," he said. "We've got a long line of people returning from wars."
Oregonlive.com: Larry Hagman becomes the new face of SolarWorld
Walt Parker
It appears that history is repeating itself. In 1989, the tanker Exxon Valdez ran aground, dumping 11 million gallons of oil into Prince William Sound, Alaska. The Washington Post reports that Parker, the chairman of the Alaska Oil Spill Commission, says the lessons of what was then the largest oil spill in U.S. history have gone unheeded.
"It's disappointing," said Parker, 84, who led the commission, which made more than 50 recommendations for preventing another disaster such as the Deepwater Horizon blowout now polluting the Gulf of Mexico. "It's almost as though we had never written the report," he said. According to the newspaper, the commission "found that oil companies cut corners to maximize profits. Systems intended to prevent disaster failed, and no backups were in place. Regulators were too close to the oil industry and approved woefully inadequate accident response and cleanup plans."
Washington Post: Lessons from Exxon Valdez spill have gone unheeded
CNN.com: 'Integrity' testing on Gulf well cap delayed
Colton Harris-Moore
The teenager dubbed the "barefoot bandit" is testing the adage that "crime doesn't pay." The 19-year-old has amassed more than 80,000 Facebook fans. In December, Time magazine dubbed him "America's most wanted teenage bandit." Also, 20th Century Fox has purchased the rights for a film based on his exploits.
Harris-Moore is scheduled to appear in federal court in Miami, Florida, on Wednesday afternoon. Taken into custody on Harbour Island in the Bahamas early Sunday, Harris-Moore was sought in a string of home and airport break-ins in various U.S. locations along with thefts of vehicles. In the Bahamas, he pleaded guilty to a charge of illegally landing a plane, paid a $300 fine, and was ordered deported, his lawyer said.
The teen had been on the run since he escaped from a juvenile halfway house in Renton, Washington, in 2008. The FBI had offered a $10,000 reward for information leading to his arrest. Harris-Moore is called the "barefoot bandit" because he was shoeless when he allegedly broke into houses. He also was barefoot when apprehended by police in the Bahamas.
CNN.com: 'Barefoot bandit' to appear in court
Hollman Morris Rincon
U.S. officials have denied the Colombian journalist's application for a student visa to enter the United States on "security and related grounds." The Harvard Crimson reports that Rincon, an independent TV news producer, is one of 25 journalists selected for a 2010-2011 Nieman Foundation fellowship at Harvard. According to the Crimson, Nieman curator Robert Niles suspects that the reason the State Department denied the visa is due to Rincon's critical coverage of Colombia's President Álvaro Uribe Vélez — a close U.S. ally.
Bruce Shapiro, executive director of the Dart Center for Journalism and Trauma, said, "My view is that there's something wrong with the process when one of the most distinguished, independent human rights journalists in the world can be labeled a security risk for the United States." Shapiro added, "We [journalists] speak truth to power, and that's what Hollman does," Shapiro said. "That's what our First Amendment is supposed to protect and encourage, and that's what this country has always stood for." The U.S. State Department declined the newspaper's request for additional information due to "privacy considerations."
The Harvard Crimson: Colombian journalist, Nieman fellow denied visa
Caster Semenya
The South African world 800-meter champion is scheduled to return to professional running July 15 at the Lapeenranta Games in southeastern Finland. The International Association of Athletics Federations ruled on July 6 that Semenya, who was hampered by allegations regarding her gender, could return to her sport and compete with other women.
The 19-year-old track star was sidelined for 11 months because she was forced to undergo gender tests when questions over whether she was a man or a woman arose after her stunning 800-meter victory at the world championships in August 2009. During the Berlin, Germany, championships, where she won the gold in her first major event, Semenya's muscular build, outstanding times and the widespread speculation about her gender sparked the IAAF to order the tests.