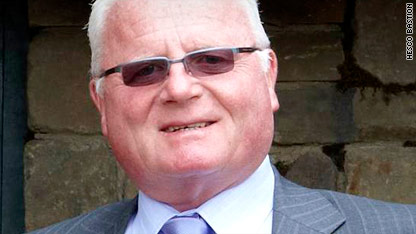 The British owner of Segway Inc. who drove the scooter off a cliff and died has became a huge headline grabber because of it - but his legacy may be more about the lives his company's products helped saved if messages left on his company's site are any indication.
Though little is known about James Heselden's personal life, there are details emerging about his trajectory from rags to riches. Before he amassed a fortune worth about $262 million, the 62-year-old was a coal miner, the Wall Street Journal reported. He dropped out of school to take the dirty job at 15, the paper said but had to quit after a country-wide mining strike in 1984.
Heselden used his unemployment compensation to found Hesco Bastion Ltd of Leeds, England, which purchased the Segway in 2009. He became famous in England for his philanthropy, giving more than $35 million to Leeds Community Foundation, according to the WSJ.
It appears that Heselden's legacy will be that the products, including the Hesco Bastion barrier, his company produced are credited with protecting soldiers and others at wartime. Hesco posted this short message on its site about Heselden's death, which is followed by posters who remarked how grateful they were for Hesco's protective products.
"Your Hesco bastion saved my son's life on several occasions in Iraq, along with many other soldiers and Marines," posted Douglas Price.
"As a soldier, I have been lucky enough to not only be protected by Hesco in Afghanistan," another poster wrote. "But was fortunate enough to meet Jimi. There are a lot of soldiers and civilians around the world that are still alive thanks to his company."
The company made fiberglass sprays and a retaining wall which water companies used to plug up canals. The walls were used to in the 1991 Gulf War, as protection against snipers during the Bosnia war and to protect the shore during the BP oil spill, according to the WSJ.