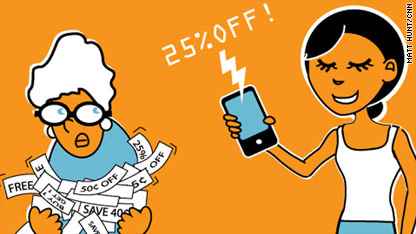 Groupon.com the popular social promotion website, may have won over many a tech-savvy bargain hunter, but how do businesses fare when they offer $30 worth of sushi for $10 or other services through the site?
The answer, in short: good and bad, according to a recent Rice University study.
The study looked at 150 businesses that used the location-based service, which offers a daily bargain for purchase in subscribers' hometowns, between June 2009 and August 2010. Of the respondents, 66 percent said the promotions were profitable and 32 percent said they were unprofitable.
What's more revealing, says the study's author, is that 42 percent of respondents said they would not participate in another Groupon promotion.
The problem may have less to do with Groupon, which received positive feedback related to customer service and the exposure the marketing model offers, and more to do with the "cheapskates" and "deal-seekers" the promotions tend to attract.
"People that buy these discount coupons tend to be demanding and appear to only want the discount rather than a relationship with the business they buy from," one salon owner said.
Or, as another salon owner put it:  "The Groupon clients try to swindle you out of more savings. Most of them are cheapskates."
Groupon and its subsequent imitators have already proved their worth in the brave new world of online marketing, said Neal Creighton, CEO and co-founder of RatePoint, an online reputation management service.
"Groupon is a perfect match for small businesses seeking a large mass of new local customers, but willing to meet the volume of demand among a potentially huge audience and stay in touch with them to ensure their continued satisfaction," he said.
"The power of Groupon lies in its ability to target your local community online and drive patrons in-store to redeem offers and build your customer base.  Through good customer service a small business has the ability to build its brand and reputation through positive word-of-mouth in the local community."
Groupon stands by its own figures related to merchant satisfaction, with 95 percent claiming satisfaction with the promotion and 96 saying they'd do it again. The company also pointed out that it runs 130 promotions nationwide each day, compared with the 150 businesses polled for the study.
"Our merchants have always come first, and we're constantly improving our education services to help prepare merchants," said spokeswoman Julie Mosser, referring to Groupon's built-in support system for businesses.
"We find the degree to which they prepare is a predictor of how successful the promotion will be," she said. "If you take our advice and prepare for the future, like most businesses do, you'll be satisfied with the results, which most are, as our statistics reflect."
The study's author agreed that businesses who were prepared for rush of customers tended to do better. Most respondents agreed that Groupon worked for getting new customers in the door and an influx of business, said Utpal M. Dholakia, a marketing professor at Rice's Jones Graduate School of Business.
But businesses with a firmly established client base did not necessarily gain much, said Dholakia, who did not consult Groupon for the study.
When it came down to it, the main predictors of a merchant's willingness to participate in another promotion were effectiveness in reaching new customers, percentage of Groupon users buying more than its value during the visit and employee satisfaction with the Groupon promotion, he said.
Restaurants came out as the biggest group of dissatisfied merchants, in large part because of customers who did not tip on the base amount or did not end up being return clients, he said.
Dholakia, an self-described avid "Grouponer" in Houston, cautioned against viewing the results negatively.
"With two-thirds of merchants reporting satisfaction with the service, they have a large base of satisfied customers, which bodes well for their overall sustainability. I think Groupon will be OK," he said.  "What I hope this will make them do is think a little bit and make changes in how they structure their promotions."