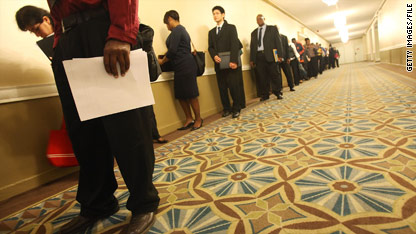 The struggling job market  hasn't gotten any better.
A total of 95,000 jobs were lost in September, according to a Labor Department report. The numbers were far worse than expected as companies didn't hire as many workers and government agencies continued to cut them.
Overall, the economy lost a total of 95,000 jobs in September, the Labor Department reported Friday, far worse than expected and down from the previous month, when employers shed 57,000 jobs. But while government cuts, especially related to the end of the 2010 census, have dragged down the overall number for several months, businesses have added jobs for nine months in a row.
Here's a look at how the numbers break down by demographics:
Adult Men: 9.8 percent, unchanged from previous month
Adult Women: 8 percent, unchanged from previous month
Teenagers: 26 percent, down from 26.3 percent
Whites: 8.7%, unchanged from previous month
African Americans: 16.1 percent, down from 16.3 percent
Hispanics: 12.4 percent, up from 12 percent
Asians: 6.4 percent, down from 7.2 percent (not seasonally adjusted)