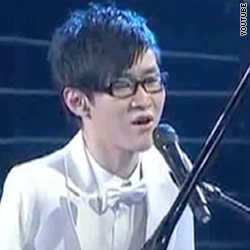 Liu Wei
 
The 23-year-old musician is proof that one can succeed in the face of incredible odds. He lost his arms in a childhood accident, but his ability to play piano with his toes made Liu the winner of "China's Got Talent."
Wei lost his arms in an electrocution accident when he was 10 years old. Yahoo! Music news reports that he was intent on pursuing his dream of becoming a concert pianist, despite comments from a piano teacher who told him he would never succeed. At the age of 18, Liu taught himself to play the piano.
Five years later, at the "China's Got Talent" competition at Shanghai Stadium, he impressed the audience with his rendition of James Blunt's "You're Beautiful." He told judges, "At least I have a pair of perfect legs."
David Sedaris
The American author and satirist known for his witty writings about his personal and family life is now including animals in his literary repertoire.  Sedaris' new book, "Squirrel Seeks Chipmunk," is a collection of short stories detailing the lives of a group of animals. The Los Angeles Times says the "modest bestiary" can be "wickedly funny."
Known for his unique voice and storytelling skills, Sedaris became a regular on NPR's "This American Life."
Eulalia Garcia-Maturey
On October 12, 1909, Eulalia Garcia-Maturey was a baby when she took a ferry across the Rio Grande from Mexico to Brownsville, Texas, with her mother. Exactly 101 years later, she will become a U.S. citizen. The ceremony will take place Tuesday afternoon in a federal courtroom in Brownsville.
For decades, Garcia-Maturey did not know legal status in the United States. She had held on to a 69-year-old "Lawful Entry" card since the start of World War II. And it was with this document that government officials were able to find her immigration documents. Maturey passed the citizenship test and said, "I want to spend the rest of my days in this life living legally in the United States. I was raised here, and I want to die here."