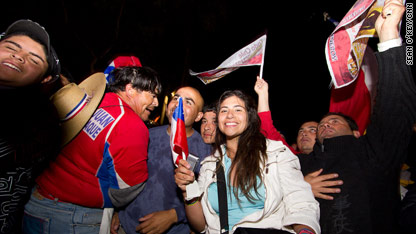 Chile miners rescue - The world's focus is on the rescue of 33 miners, a happy ending to a story that illustrates just how dangerous that job can be. Fourteen of the men who were trapped underground for 69 days had emerged as of about 10:28  a.m. ET Wednesday, greeted by the wild applause of their families and friends. See the San Jose mine where they had been trapped, in panorama. Celebrating their first moments jubilantly, some gave a thumbs-up and waved their nation's flag while others rushed to hug their loved ones. One dropped to his knees and prayed, another asked about his dog. One led the crowd in a cheer for Chile. The next step for these brave men is healing physically and mentally.
Mexico beheading - As joyous news continued from Chile, an investigation in Mexico has taken a gruesome turn. The lead investigator on a case involving an American allegedly shot to death in a waterway on the U.S.-Mexico border was beheaded, officials said. The head was delivered in a suitcase to a Mexican army garrison, according to Zapata County, Texas, Sheriff Sigifredo Gonzalez Jr.
The body of the American man, David Michael Hartley, has not been found. Hartley's wife, Tiffany, told authorities that her husband was fatally shot September 30 during a sightseeing trip the two were taking on Falcon Lake, though she could not describe the attackers.
Celebrity split-ups - Christina Aguilera confirms that she has separated from her music producer husband, Jordan Bratman. Meanwhile, David Arquette hurtles toward TMI territory in telling Howard Stern about the breakup of his marriage to Courteney Cox.
Who will be next?