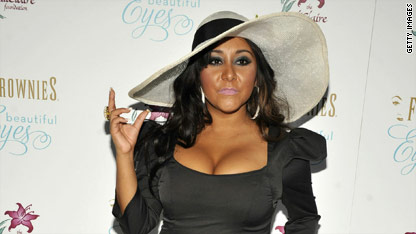 Nicole Polizzi, aka "Snooki" from the reality show "Jersey Shore," will be signing autographs this Sunday to comply with her sentence for disorderly conduct.
Polizzi is scheduled to appear from 1 p.m. to 4 p.m. at the Seaside Heights Community Center  to benefit the Associated Humane Societies, an animal rescue organization in New Jersey, and related charities.
The appearance is part of Polizzi's community service sentence after pleading guilty to several violations after she was arrested in July. She was charged with disorderly conduct and being a public nuisance on the beach.
On September 8, 2010, a municipal court judge sentenced Polizzi to one day of community service and imposed a $500 fine.
Admission is $10 per person, with all proceeds going to the annual "Donations of Love" drive, the Associated Humane Societies/Popcorn Park said in a news release on its site. Fans should bring their own item to be autographed, and photos with Snooki are available for an additional $10, the agency said.
"Say what you want about this reality television celebrity, Snooki is a great supporter of Jersey Shore animals," the statement said.