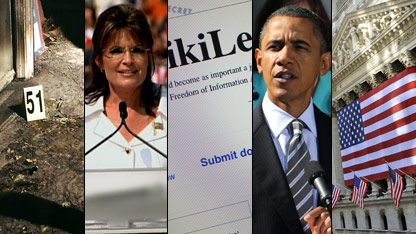 Preparation. It's key to a successful life. Doing what you can to anticipate what's around the corner can help you step more confidently into the future. While meticulous preparation doesn't always guarantee success, it gives you a better chance of feeling like these guys at the end of the day.
It's in that spirit that we introduce this new Sunday feature. In it, we hope to show you some of the things we expect to cover in the next week so you'll feel up to speed as you wind down your weekend and prepare for your many dinner table and water cooler conversations ahead.
A few things to expect this week:
The Philippines is bracing for Super Typhoon Megi, a monster of a storm that is expected to make landfall with winds of more than 125 mph possible around midday Monday. The government is warning the storm could devastate the northern island of Luzon; we'll keep you up-to-date.
In Chile, we'll continue to follow the adjustments that 33 miners are making following their rescue from a mine where they were trapped for more than two months. We'll also be watching the search for survivors after mining incidents in Ecuador, where two were confirmed dead and two were missing after a Friday collapse, and China, where 26 miners were killed and 11 were missing after a gas leak and blast Saturday.
As early as this week, controversial whistle-blower website WikiLeaks could publish about 400,000 leaked military documents relating to the Iraq War. WikiLeaks published more than 70,000 secret military documents from the war in Afghanistan in July, and it's holding about 15,000 more Afghanistan documents that it is reviewing because they contain names or other sensitive information.
In Texas, the U.S. military's evidentiary hearing in the case of Maj. Nadal Hasan, who is accused in the shootings that left 13 people dead and dozens wounded at Fort Hood last year, will enter its second week. The Army colonel overseeing the hearing will decide whether there is sufficient evidence to proceed to a court martial with a possible penalty of death; the hearing began last week with survivors testifying that Hasan was the gunman.
In a Connecticut courtroom, the penalty phase for Steven Hayes - a man convicted of killing a Connecticut woman and her two daughters after invading their home in 2007 - is to start on Monday, with prosecutors looking for the death penalty.  Dr. William Petit, the woman's husband and lone survivor of the attack, has said he won't testify during this phase, citing uncertainty over whether state law would make his testimony grounds for Hayes to appeal his sentence.
With midterm elections about two weeks away, high-profile surrogates such as President Obama and Sarah Palin are getting ready to pump up voters and boost allies' coffers. On Monday, Palin will be in Reno, Nevada, to help kick off a Tea Party Express tour of the country. On Thursday and Friday, Obama will make his last major West Coast swing before the midterms, attending events for three Democratic senators in tough re-election campaigns - Patty Murray of Washington, Barbara Boxer of California, and Harry Reid of Nevada.
On Wall Street, earnings season is kicking into high gear this week. Expect to hear results from Citigroup, Apple, Yahoo, Goldman Sachs, Morgan Stanley, Bank of America and others. Also, state-by-state unemployment reports are expected Friday.
On Tuesday, look for more findings on hormone replacement therapy and breast cancer, based on participants in the long-running Women's Health Initiative.
Wednesday will be six months since the oil-rig explosion that kicked off the Gulf of Mexico oil disaster. We'll update you on the situation in the Gulf.
And we invite you to participate in a couple of iReport features this week: iReport Boot Camp - where you can work on your journalistic, technical and storytelling skills - continues at 3 p.m. Thursday with a live chat on covering a story from start to finish. Also, CNN is getting ready to interview actress-singer Mandy Moore and actor Zachary Levi - stars of Disney's latest fairy tale, "Tangled" - and we're giving you a chance to participate. Send in your questions for Moore and Levi by 12:01 a.m. ET Thursday.
If you're craving more info about the week ahead, here are a few pointers from CNN correspondents and others affiliated with the network:
Rewind to last week
Now, for those of you who missed the news last week because you were off looking at the fall foliage, here's a look at some of the more popular CNN.com stories in the past seven days:
About 69 days after a collapse trapped them about 2,300 feet underground - and about 52 days after rescuers made first contact with them - 33 miners were lifted out of the Chilean mine in a specially made capsule Tuesday and Wednesday. Television cameras captured all 24-plus hours of the final rescue phase; here is video showing the moments that each of the 33 emerged. Check out our special page on the miners' rescue for complete coverage, and be sure to read CNN writer/producer Eliott McLaughlin's breakdown of the 69 days it took to rescue the men.
The stepmother of a missing 10-year-old North Carolina girl admitted to writing a fake ransom note, authorities said last week. Authorities searching for Zahra Baker spent days combing an area about 20 miles north of Zahra's home in Hickory, North Carolina, but have not found her. The girl was reported missing on October 9, and her stepmother was arrested October 10 on an unrelated charge of passing bad checks, prosecutors said. The last known sighting of Zahra by a nonrelative was on September 25, authorities said.
On Friday, a judge in Atlanta, Georgia, ordered rapper T.I. to prison for 11 months for violating his probation with a drug arrest. Two days earlier, he made headlines by helping police persuade a man not to jump off the roof of a high-rise office building in Atlanta.
Actress Barbara Billingsley, who dispensed pearls of wisdom as America's quintessential mom on "Leave It to Beaver," died Saturday at 94.
Mexican authorities last week suspended the search for the body of David Hartley, an American who was shot September 30 on a lake that straddles the U.S.-Mexican border. This came after authorities said the lead Mexican investigator in the Falcon Lake case, Rolando Armando Flores Villegas, was killed, his severed head delivered Tuesday in a suitcase to the Mexican military.
The top U.S. commander in Afghanistan, Gen. David Petraeus, launched an investigation into the death of a British aid worker in Afghanistan after a failed rescue attempt.
A federal judge last week ordered the U.S. military to stop enforcing "don't ask, don't tell," but the Justice Department is seeking a stay of that decision.
And in France, tens of thousands of protesters took the streets during several days of nationwide strikes, rallying against a government proposal to raise the national retirement age to 62.