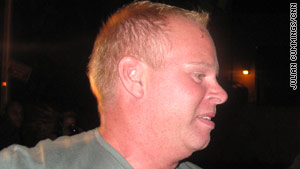 Steven Slater, the former JetBlue flight attendant who allegedly cursed over a plane's public address system, then deployed and used an emergency evacuation chute at  New York's JFK airport in August, will plead guilty to two counts of attempted criminal mischief under terms of a plea agreement.
As part of the agreement Slater has pleaded guilty to a felony charge of attempted criminal mischief in the 2nd degree. He also pleaded guilty to a charge of attempted criminal mischief in the 4th degree.
Slater must enter a mental health program, take assigned medications and not get arrested during the year he will be in the program. If he were to violate terms of the agreement, Slater could face 1 to 3 years in jail.
If Slater successfully completes the program, lasting one year, he could ask to vacate the guilty plea and would receive one year on probation and pay restitution of $10,000 dollars.  JetBlue suspended Slater immediately after the incident and he resigned from the airline last month.
"I want to thank everyone for their support. And kindness that got me through to this day. The public interest in this was surprising, unexpected, and encouraging," Slater said outside court after the hearing."At the end of the day I am grown adult and must accept responsibility for my actions therefore I am looking forward to moving forward with my life and I'm very grateful to the court for making these arrangements which allow me to do so."