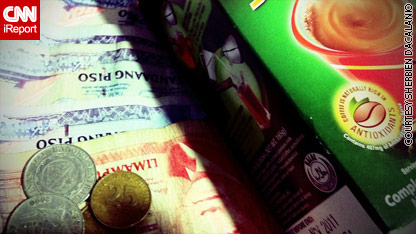 Editor's Note: Learn about the top 10 CNN Heroes of 2010 and vote for the CNN Hero of the Year at CNNHeroes.com.
[Updated at 4:55 p.m.] Today's challenge to save $1 got lots of reactions. Some said they're already "scraping the bottom of the barrel" or that we should be spending to stimulate the economy, not saving. 
But others took the challenge, and we'd like to recognize a few:
Susan Bush drank water from the office today instead of buying soda and tea.
JayInAtlanta turned off the lights in his home office, used only natural light, opened the windows to keep the temperature moderate without heating or air, and unplugged his cell phone charger.
"I'm hoping it saved me even more than $1 on the electricity bill," he wrote.
Our favorite story of the day comes from iReporter Sherbien Dacalanio, 27, a freelance TV producer and coffee addict in the Philippines. Dacalanio budgets 500 pesos (about $11.50) per day for his caffeine fixes – 4 to 5 coffees from one of his favorite coffee shops – but today, he bought a box of 10 instant coffee packets for just 47.50 pesos (about $1).
The savings were big, he said, even when taking into account that "I need to combine 2 sachets of the instant coffee to replace the taste of brewed coffee that I always crave."
Others suggested we'll only hurt the economy more by cutting our spending.
Susie wrote: "Saving that dollar will simply provide more layoffs as businesses or transportation or etc. do not get the revenue… I would propose spending that dollar more wisely, supporting small local businesses or healthier foods or something leading to energy conservation."
[Posted at 10:31 a.m.] The economy has forced the world to make drastic changes.
The British government this week announced deep budget cuts to trim a massive deficit, including 490,000 jobs slashed from the public payroll over four years. Tonight, CNN's Soledad O'Brien will look at how some are fighting debt from the pulpit in "Almighty Debt: A Black in America Special," premiering at 9 p.m. ET.
For today's "Be A Hero" challenge, we invite you to "Be A Hero" for a rainy day:
Find a way to save $1.
Make one financial choice that you weren't planning. Pick a cheaper lunch option, or order water instead of soda. Skip that afternoon coffee – or make it yourself. Walk instead of taking public transportation, or take the bus instead of a taxi. Clip a coupon – and use it. Buy generic instead of brand-name product.
Then tell us what you did. Post in the comments below, tweet what you did with the hash tag #BeAHero – for example, "To #BeAHero for a rainy day, I saved $1 by bringing lunch" - or send us an iReport about what you did to keep an extra dollar in your wallet.
I'll start: I saved $1 by drinking the office coffee, instead of buying.
Come back later, when I'll post a wrap-up of the day's heroics.