Sylvie Cachay appeared to have it all: fame as a swimwear designer, an apartment in New York's West Village and membership at the Soho House, a members-only club and hotel in the Meatpacking District.
But it all ended Thursday morning when the 33-year-old's body was found in a bathtub in a room at the Soho House. Police have arrested Nick Brooks, a man described as her boyfriend and ex-boyfriend in various news accounts, in connection with her death. He is the son of Oscar-winning composer Joseph Brooks.
Cachay's chic line of swimwear catapulted her to fame in the fashion world and helped her secure a spot in elite social circles, but her friends remembered her Friday for her "magnetic energy, sincere kindness and emotional generosity."
"She never failed to tell you she loved you. And we love her. She was optimism and light personified and the world has lost a beautiful soul. She will be deeply and painfully missed, yet celebrated, honored and never forgotten," her friends said in a statement through her publicist.
It was Cachay's keen eye for design that brought her prominence as the designer of her own swimwear collection, Syla, the culmination of her life's work.
As a child, the Peruvian-born Cachay split her time between McLean, Virginia, and Peru, according to a biography on her clothing  line's website. Inspired by her mother's work as an artist and a love for the beach, she began collecting bikinis, which eventually grew into a desire to create.
After high school, she went to Parsons Paris School of Art and Design to study art and fashion. She got her MFA from Marymount University in Virginia before moving to New York to pursue her career.
She got her start as a design intern with Marc Jacobs before moving to Tommy Hilfiger, where she ascended the ranks from assistant designer to head designer for women's sportswear.
In 2002, she moved to Victoria's Secret to head its swimwear team. She noticed a need for "high-end, sophisticated swimwear with simple lines and distinctive patterns."
Ultimately, she developed her own luxury swimwear collection, Syla, a combination of her name and the name of a friend. It also pays tribute to her mother, Sylvia, and the influence of the seas, according to her website.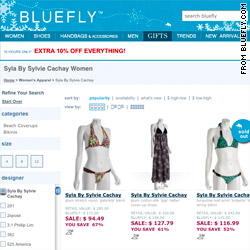 "Syla is a swimwear collection for women who are comfortable in their own skin and don't feel the need to follow the latest trends," Cachay said on the website. "I wanted to create a collection that was unique with sophisticated colors, striking prints and an incredible fit."
The collection debuted in 2006 to rave reviews at a Miami swimwear show and she began to expand her line to resort wear.
By 2008, the economy had taken its toll on the business, publicist Kate Godici said, and it closed its doors. Some of her designs can still be purchased online.
A statement says Cachay went on to work for other designers, but when asked which ones, Godici replied "unsure" in an e-mail.
News reports since Cachay's death have hinted at personal struggles since 2008, among them a divorce, but Godici did not respond to requests for further comment.
Since Thursday, fans, fellow designers and industry insiders have gone online to mourn their loss.
"OMG! So sad to hear about this!" designer Kerry Cushman tweeted on Friday. "what a tragedy!!! R.I.P. Sylvie Cachay"