Editor's note: CNN senior producer Eric Marrapodi is attending his first shuttle launch. Atlantis is set to blast off Friday in the final mission of America's 30-year space shuttle program. Here are his preparations for the big moment:
4:30 a.m.: Getting there is half the battle.
I'm a rookie. This is my first shuttle launch.
My iPhone alarm clock buzzes my wake-up call. I'm already anxious about traffic.
CNN Miami producer Rich Phillips put the fear of God in me early on when he told me it once took him five hours to travel 12 miles down here for a launch.
Brooke Baldwin and I are getting ready for morning live shots for "CNN Newsroom" so we made the call to get on the road early and stave off any traffic snafus.
5 a.m.: As we pull out of the parking lot of our beachfront hotel, there is a line of cars waiting to get on the beach for a prime viewing spot. This is not a good sign.
5:10 a.m.: We stop at a 7-Eleven to fuel up on sports drinks, water and beef jerky, knowing we could be in traffic for hours either before or after the launch.
5:20 a.m.: We hit our first major traffic scare of the morning ... the line at Dunkin' Donuts.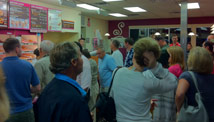 Locals chat us up in the line. People here don't count how many shuttles they've seen launch; they count on one hand the number they have missed.
Everyone has an opinion about where the best spot is to watch.
One guy tells us he and a pal took a canoe out for the first space shuttle launch in 1981. He said they paddled up until guys on a boat with machine guns stopped them.
One woman asks me if this is my first time here. It takes me a good five minutes of her waxing poetic about a breakfast sandwich until I realize she doesn't mean a shuttle launch. She means Dunkin' Donuts.
6:15 a.m.: We are back on the road and moving well. I'm smiling inside, and then we hit the exit for the space center. Seven miles out and we are at a dead stop.
6:30 a.m.: Traffic is crawling. We pass the Astronaut Hall of Fame and people are packed onto the lawn. They've been here awhile. Turns out the holdup is a checkpoint. We flash our NASA credentials and a smile and are waved in.
7 a.m.: As we clear the checkpoint, it's clear sailing through the Merritt Island National Wildlife Reserve and into Kennedy Space Center.
7:10 a.m.: The sign on the side of the road at the space center reads 0 days until launch. Hurdle one: traffic. Check and mate.