A convicted killer who escaped from a Florida prison more than 30 years ago was arrested Wednesday in Colorado, authorities said.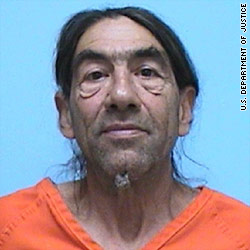 Mark Barrett, 60, was taken into custody by U.S. Marshals Wednesday morning at his cabin outside of Montrose, the Department of Justice said in a press release.
Barrett was serving a life sentence for murder in 1979 when he scaled prison fences to freedom, according to America's Most Wanted, which featured Barrett's case in January 2010.
Tips led to a Barrett's cabin outside Montrose, where officers disguised as fire protection officials approached him Wednesday morning and engaged in short conversation with him about fire concerns in the area, the Department of Justice said.
Once the deputy identified a tattoo on Barrett's hand, law enforcement officers identified themselves and took him into custody. During the arrest, deputies noticed firearms and what appeared to be a small marijuana grow operation.
Barrett is being held at the Montrose County Sheriff's Office while he awaits extradition to Florida.