The CNN Daily Mash-up is a roundup of some of the most interesting, surprising, curious, poignant or significant items to appear on CNN.com in the past 24 hours. We'll top it with a collection of the day's most striking photographs. Your comments, as always, are welcome.
Dolphins to be returned to wild
A wildlife rescue group that rescued two dolphins from a filthy resort pool is getting ready to release the now-healthy animals into the wild. But can the animals handle life apart from humans?
[cnn-video url=http://www.cnn.com/video/#/video/world/2012/05/02/turkey-dolphin-rescue.cnn]
French turn a protest into a party
CNN iReporter Adrian Michael Westbrook shot this video of May Day street protests in Paris, ahead of this week's contentious presidential election in the country. "The dominant theme appeared to be an all-encompassing disdain for the incumbent president (Nicolas Sarkozy) and a proprietary reclamation of the May Day festival itself," he said.
Children are not merely small adults
Medical ethicist Harriet A. Washington, a former research fellow at Harvard Medical School and the author of two books, agrees with research by Dr. Florence Bourgeois that says the medical field has failed to assess the effects of medications on children. Here's one sentence from an essay Washington wrote for CNN.com:
A child is not a Mini-Me, but according to Bourgeois' report, we tend to act as if kids are, because drug trials conducted in children are too few, of poor quality and too often focus on medications that are important for disorders of adults, not children.
That's a price worth shouting about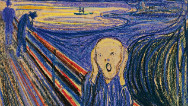 After hearing about the record-setting $120 million sale of a pastel version of Edvard Munch's "The Scream"Â on Wednesday at Sotheby's in New York, many of our readers wanted to let out a few screams of their own. Reader falconco said:
A colleague of mine, an art major, stopped at my desk to admire a watercolor I had displayed.  "Oh, that's wonderful!  Who's the artist?"  "My 4-year-old granddaughter." True story.
'Leave the gun. Take the cannoli.'
Do NOT stand between a man and his delicious Italian pastry. CNN affiliate WBBH reports a Florida man is accused of injuring his girlfriend after accusing her of finishing off their cannolis. The girlfriend told deputies he was so angry he flipped over a coffee table and threw his dinner in the trash. He then allegedly threw the food at her, hitting her in the shoulder and the face. It only got worse from there.
On the horizon: Superheroes storm theaters!
The highly anticipated 3-D blockbuster "The Avengers" opens Friday in U.S. theaters. The film, which has done monster box office in Europe, stars Robert Downey Jr. as Iron Man, Scarlett Johansson as Black Widow, Mark Ruffalo as the Hulk, Chris Hemsworth as Thor, and a host of other heavy hitters.  And that's just the kickoff for what promises to be a summer full of silver screen superheroes.