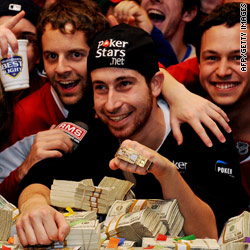 *** WSOP SPOILER ALERT***
Jonathan Duhamel
The 23-year-old from Boucherville, Quebec, won the 43rd World Series of Poker on Monday, raking in more than $8.9 million in prize money.
"It's a dream come true right now. It's like the most beautiful day of my life," he said, according to a report from Canada's CTV.
Duhamel outlasted 7,318 other entrants, the second-largest ever field in the tournament, which began July 5. Duhamel paid a $10,000 buy-in to get into the field.
Floridian John Racener finished second, collecting $5,545,955 in prize money.
Duhamel is the first Canadian to win the championship. The former college finance major learned poker by reading books and playing online, sometimes betting as little as 2 cents a hand, according to a CTV report. Monday's victory was his biggest by far.
"I love playing poker so much, so I mean I'm going to be playing all those big tournaments and try to make other big scores," CTV quoted him as saying. "I'll be there next year in the World Series and try to do my best again."
The final was played at the Penn and Teller Theater at the Rio in Las Vegas, Nevada. It can be seen on ESPN tonight at 10 p.m. ET.