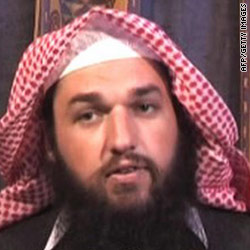 Adam Gadahn: Conflicting reports emerged Sunday about whether the U.S.-born spokesman for al Qaeda has been arrested in Pakistan.
The reports came hours after Gadahn, in a newly released videotape, praised Nidal Malik Hasan, the U.S. Army psychiatrist who allegedly killed 13 people and wounded 30 others at the Fort Hood military base in Texas in November. Gadahn, also known as Azzam the American, called in the video for other Muslims to follow Hasan's example.
Gadahn said, "Brother Nidal is the ideal role model for every repentant Muslim in the armies of the unbelievers and apostate regimes. You shouldn't make the mistake of thinking that military bases are the only high-value targets in America and the West."
Read the CNN.com story to see who else made today's list.