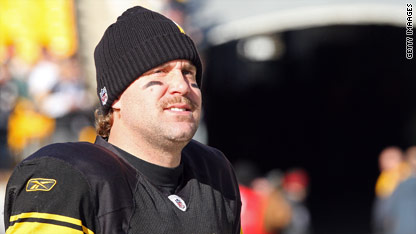 Ben Roethlisberger, the NFL quarterback accused of sexually assaulting a woman Friday in a rural Georgia nightspot, will be interviewed soon by authorities, police said Monday.
"We anticipate interviewing him at a certain point in the next couple of days," Police Chief Woodrow Blue told reporters in Milledgeville, about 80 miles southeast of Atlanta.
Witnesses were contacted over the weekend and the lawyer for the 28-year-old Pittsburgh Steelers star has been in touch with authorities, too, Blue said. "He's in the process of making arrangements for us to talk to Mr. Roethlisberger," Blue said, referring to Roethlisberger's lawyer, Atlanta defense attorney Ed Garland.
"The facts show that there was no criminal activity," Garland said in a statement to the media. "No sexual assault occurred. We are cooperating with the investigation. Ben is completely innocent of any crime. The truth of the events should cause this investigation to end without a criminal charge."