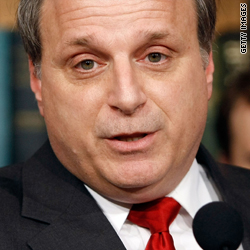 Eric Massa: "Effective at 5 p.m. on Monday the 8th of March, I will resign my position as the Federal Representative of New York's 29th Congressional District in the 111th Congress. I do so with a profound sense of failure and a deep apology to all those whom, for the past year, I tried to represent as our Nation struggles with problems far greater than anyone can possibly imagine."
That statement is posted on the former congressman's Web site. He announced last week he would not seek re-election because of health concerns and denied reports that he had harassed one of his Capitol Hill staff members.
Massa said he was targeted because he was standing in the way of passing health care legislation, having voted against the House's health care reform bill in November. House Democratic leaders on Monday refuted his allegation.
"If you think that somehow they didn't come after me to get rid of me because my vote is the deciding vote in the health care bill, then ladies and gentlemen, you live today in a world that is so innocent as to not understand what is going on in Washington, D.C.," he said Sunday on his weekly radio show on WKPQ-FM in Hornell, New York.
Massa said the ethics investigation stems from a sexually laced conversation he had at a New Year's Eve wedding for one of his staffers, where there was heavy drinking. One staff member "made an intonation to me that maybe I should be chasing after the bridesmaid," Massa said. Massa responded, "Well, what I really ought to be doing is fracking you." He said, "Now was that inappropriate of me? Absolutely. Am I guilty? Yes." Massa said someone then reported him to the House ethics committee.
According to the biography on his Web site, Massa is a 24-year retired Navy commander, who served during several global conflicts, including the Persian Gulf War. While in the Navy, he received a terminal diagnosis of cancer and returned to the States to undergo treatment. "With the odds stacked against him," his bio reads, "he survived and is now completely cured."
CNN: Massa says Democratic leaders want him out
Massa's congressional Web site
The Rev. William Breslin: "This past week we implemented a policy that has been the most difficult decision of my life."
That's what Breslin wrote in his blog, responding to the policy of the Archdiocese of Denver, which denied a child from enrolling in kindergarten next year at the Sacred Heart of Jesus Catholic School in Boulder, Colorado. The Denver Post reports the decision follows the discovery that the child's parents are lesbians.
Jeanette DeMelo, a spokeswoman for the archdiocese, told the newspaper that schools do not ask questions about sexual orientation, but once they found out about the sexuality of child's parents, they had to address it according to their policy. She told CNN the policy has been in place for at least nine years.
DeMelo said the child is in a preschool program and will be able to complete the year. KUSA-TV in Denver reported that demonstrators showed up at the school Sunday, and some parents had planned to start a petition drive to protest the decision.
Breslin, pastor of Sacred Heart of Jesus, also posted these thoughts: "The choice could have been made to do nothing and allow a lesbian couple to enroll their child in our kindergarten. But that choice would have been against Archdiocesan policy. And when a priest is ordained he promises obedience to his bishop; and I cannot violate that vow; and I will not." He continued, "My brothers and sisters, our school is a Catholic school and our teaching on the sanctity of marriage is as clear as a bell. So, the decision I made was based on my conviction that we needed to rest on the side of backing our beliefs and our values. We need to fight for our Catholic values because here in Boulder it seems, no one else is."
KUSA: Parents start petition after school turns away lesbian couple's child
The Denver Post: Group outside Boulder church protests barring of child
Father Bill's blog: What wisdom is at work?
Archdiocese of Denver: Statement on school admissions policy
CNN: Groups protest decision not to re-enroll child of lesbians
Ben Roethlisberger: The NFL quarterback was accused of sexually assaulting a woman Friday at a Georgia nightspot and will be interviewed soon by authorities, police said Monday.
"We anticipate interviewing him at a certain point in the next couple of days," Police Chief Woodrow Blue told reporters in Milledgeville, a town about 80 miles southeast of Atlanta. Roethlisberger's attorney disagrees.
"The facts show that there was no criminal activity," Atlanta defense attorney Ed Garland said in a statement. "No sexual assault occurred. We are cooperating with the investigation. Ben is completely innocent of any crime. The truth of the events should cause this investigation to end without a criminal charge."
Roethlisberger, 28, has been the starting quarterback for the Pittsburgh Steelers for six seasons, guiding the team to two Super Bowl championships. Last year, a civil complaint filed against Roethlisberger also alleged sexual assault. He has denied the allegation made by an executive casino host at Harrah's Lake Tahoe, saying, "Her false and vicious accusations are an attack on my family and on me; I would never, ever force myself on a woman."
CNN: Police to interview Roethlisberger over sex assault allegation
Sara Killen: The 19-year-old from Fowlerville, Michigan, uses the Twitter name of LovelyButton, and as of last Friday, she had 17,112 people following her. That's because former "Tonight Show" host Conan O'Brien announced that he had decided to follow just one person on Twitter.
The high-haired comedian has some 590,000 Twitter fans. WDIV-TV in Detroit reports that O'Brien's random decision to follow Killen apparently has changed her life.
A Florida computer dealer sent her a new $3,000 Apple computer in exchange for a mention on her Twitter page. She said that she and her fiancé, John Slowik Jr., were postponing their wedding because they couldn't afford it. But now she told the TV station, "A Detroit company gave us a limo, a woman from New York is making me a handmade dress and vineyard in California is sending us three cases of wine."
Killen told the Los Angeles Times, "I'm trying to be careful and stay positive through it because people will take you down very, very quickly so I've been trying to avoid that."
She and Slowik plan to marry on September 25. She told the paper, "There's a lot of weird people. People keep telling me to dump him (points at John) and marry them."
WDIV: Michigan woman is Conan's Twitter pick
Los Angeles Times: Conan Twitter tracker: How Conan met Sarah