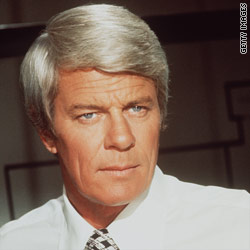 Actor Peter Graves, best known for his starring role on TV's "Mission: Impossible," was found dead Sunday at his home, according to a spokeswoman for the Los Angeles Police Department. He was 83.
There is no sign of foul play in the actor's death, officer Karen Rayner said.
Graves portrayed the character Jim Phelps for all but one of the seven years "Mission: Impossible" ran on television, from 1967-1973.
He also appeared as Captain Clarence Oveur in the 1980 movie spoof "Airplane!"