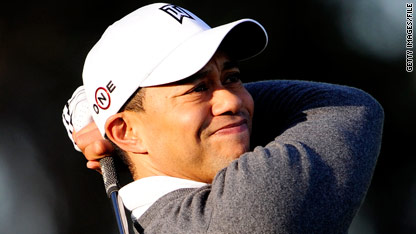 [Updated 3:57] Listen to PGA Commissioner Tim Finchem discuss Tiger Woods' return to the tour and the impact of his absence.
[Updated 2:48 p.m.] PGA Tour Commissioner Tim Finchem said Tiger Woods is preparing to return to golf, but he does not know the specific date or event when that would happen.
"We have the general information that Tiger is preparing to play," Finchem said.
The PGA chief noted that speculation was focusing on Woods returning at the end of March and said if that was the case "then we will know soon."
"He'll give us reasonable notice because we know we've got some preparation to do," he said. "But I don't have the specific date when he's going to come back."
[Posted 12:42 p.m.] The wait for a date for Tiger Woods' return to golf continues - but perhaps today is the day fans will get an answer.
With two weeks until practice rounds begin for the Masters, speculation is swirling around the subject of a teleconference scheduled for 2:30 p.m. with PGA Tour Commissioner Tim Finchem (We'll be listening live and you can too.)
Even if Tiger is not officially on the agenda, surely his name will soon come up in questions.
Finchem said yesterday he expects Tiger to give him a heads-up soon about when he'll be back on the Tour. Perhaps he's gotten one and we'll finally learn when Woods (and ratings) will return to the golf world.
The Associated Press recently cited "two people with knowledge of his plans" who said Woods would not return until the Masters in Augusta, Georgia, which begins with practice rounds on April 6 and ends with the tournament from April 9-12.
Woods, 34, stepped away from the tour late last year after crashing his black Cadillac Escalade into a fire hydrant and then a tree near his home outside Orlando, Florida. He later admitted cheating on his wife.