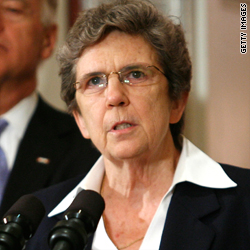 Sister Carol Keehan: The president of the Catholic Health Association, which represents hundreds of Catholic hospitals nationwide, said her group supports the highly-debated Senate health care reform bill.
Politics Daily reports that the CHA's decision puts it at odds with other Catholic organizations, but Keehan says she thinks that the benefits of the legislation are too important to be impeded by the battle over abortion language, which she feels can eventually be negotiated successfully.
Politics Daily: Catholic health group accepts abortion language in reform bill
Mark A. Skoda: The chairman of the Memphis Tea Party helped organize "Take The Town Halls To Washington," which has brought Tea Party activists to Washington, D.C., today to question and review the positions of approximately 50 House Democrats.
On the organizers' Web site, Skoda says the activists are visiting Washington to discover the yet-unannounced health care positions of this targeted group of lawmakers.
Take the town halls to D.C. Web site
Father Gabriele Amorth: The Vatican's chief exorcist for 25 years says the recent sex abuse scandals in the Roman Catholic Church confirm that "the Devil is at work" inside the Vatican.
The Times newspaper of London reports that Amorth, 85, has handled some 70,000 cases of demonic possession, and says the Vatican is now dealing with "cardinals who do not believe in Jesus, and bishops who are linked to the Demon."
Times Online: Chief exorcist says Devil is in the Vatican
Unnamed Colorado couple: A couple whose children were expelled from a Catholic school in Boulder, Colorado, expressed their dismay Monday, but held steadfast to their faith. The Archdiocese of Denver recently defended its decision not to re-enroll the couple's two children in the Sacred Heart of Jesus School next year because their parents are lesbians.
In a written statement, the women, who chose not to reveal their identities, described themselves as normal, hard-working people with a nice house and a dog - and as Catholics.
"When we were allowed to have our children baptized ... we made a promise to raise our children in the Catholic faith," they said. "Perhaps our biggest objection to the school's decision is that we think that it is wrong to punish a child for who the child's parents are. We do not think that this reflects what Jesus would have done."
CNN: Lesbian parents of expelled kids defend their Catholic faith
Yochai Benkler: The Federal Communications Commission turned to the legal scholar, Harvard professor and expert on our networked society to study how people around the world connect to the Internet.
National Public Radio reports that the FCC, which is scheduled to release its national broadband plan today, got Benkler's study and basically said, "Thanks, but no thanks."
Benkler found that other countries are ahead of the U.S. due to competition among different companies.