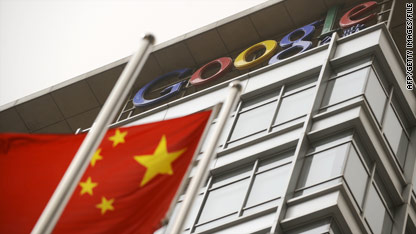 Google has stopped censoring search results in China, the search giant said, finally ending the chess game between Beijing and Google and speculation to whether Google would pull out of China entirely and set up a showdown with the Communist leadership there.
On its official blog, Google said it stopped running the censored Google.cn service on Monday and was routing its Chinese users to an uncensored version of Google based in Hong Kong.
The problems between Google and China reached a boiling point when Google disclosed that it had been the victim of a cyberattack that security experts believe was carried out by hackers working on behalf of the Chinese government, something China has denied.
Google's decision to stop censoring its China Web Site angered China's state media which said the move "violated its written promise" and was "totally wrong." The reaction was no surprise - the media there launched a volley of articles attacking the "politicization" of Google in the days before the announcement.
When discussions of Google leaving China began there were initially concerns about what impact he move could have on U.S-Sino relations. On Tuesday, China's Foreign Ministry said however there's no reason China's spat with the Internet search giant should hurt relations with the United States.
But the U.S. and China aren't the only ones who may feel the impact of the decision. Academics, university students and other researchers rely heavily on Google's search services to access information not available through Chinese search engines, like Baidu.com, China's most popular search portal. Small businesses that depend on Google applications such as Google Docs and Gmail may also suffer, analysts said. But most of China's nearly 400 million Internet users may not be affected by the closure.
On Monday, after their announcement, Google set up a dashboard similar to the Apps Status Dashboard that relays problems with Google's services. This page (located here) will list day-to-day updates on which of Google's services are accessible in China.
Exactly how China will respond in the coming days, weeks, months and years is uncertain. Our friends at Time.com take a look at what an uncensored Google means for China and what the future is between the two.