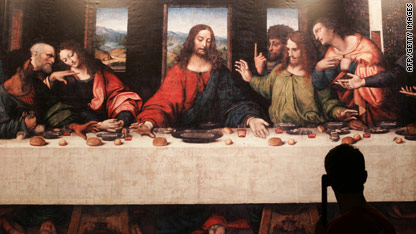 Jesus and his disciples would be eating a lot more at the Last Supper if it occurred in modern times, according to a study from Cornell University.
Researchers Brian Wansink, a professor of marketing and applied economics at Cornell, and his brother Craig Wansink, a professor of religious studies at Virginia Wesleyan College, analyzed more than 50 depictions of the Last Supper painted in the past 1,000 years to look at portion sizes.
Using computer aided design technology, the brothers compared the size of the portions, bread and plates with the average size of the heads in 52 paintings. Entrees increased 69 percent in size during the 1,000 years, plate size 66 percent and bread size 23 percent, the Wansinks reported in a study published in the April edition of The International Journal of Obesity.
The U.S. government reported in 2005 that portion sizes had been increasing steadily since the 1970s. But the researchers say their findings show the increase in portion sizes has been a thousand-year evolution.
"The last thousand years have witnessed dramatic increases in the production, availability, safety, abundance and affordability of food," said Brian Wansink. "We think that as art imitates life, these changes have been reflected in paintings of history's most famous dinner."