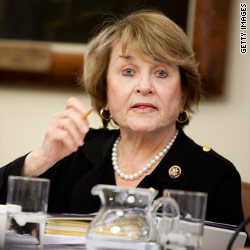 Rep. Louise M. Slaughter: The New York Democrat has had to add security to her office after receiving threats following the passage of health care legislation, WHAM-TV reports.
Slaughter posted this statement on her congressional Web site: "There were two events in my district during the last week that were alarming to me and I have reported them to the proper authorities. There was a brick thrown through my Niagara Falls district office and a voice mail referencing snipers that was left on the answering machine of my campaign office."
According to the Rochester, New York, TV station, her staff members discovered the recorded message. " 'Assassinate' was the word they used for the children of members who voted yes. ... It's a very nasty time. It was hard here this weekend. Members of my party were assaulted," Slaughter, chairwoman of the House Rules Committee, told the station. "It's not the America we want it to be."
More than 10 Democrats have reported incidents since the weekend vote, House Majority Leader Steny Hoyer told reporters.
WHAM-TV: Slaughter's office adds security
CNN: House Democrats report increased threats since health care vote
Slaughter's office: Statement on recent threatening incidents
Steve Donahue and John Calipari: Cornell meets Kentucky in the East Regional NCAA semifinal at Syracuse on Thursday night, and sportswriters are having a fine time comparing and contrasting the two teams.
Among the observations by Gannett's Mike Lopresti in USA Today: "Cornell's Steve Donahue was once a high school junior varsity coach. Kentucky's John Calipari once coached two different schools to the Final Four. Kentucky averages more than 24,000 at home games, with probably 4,473 people in the concession line at halftime. A sellout Cornell crowd is 4,473. Kentucky has a freshman, John Wall, who can take over a game in under three minutes. Cornell has a freshman, Eitan Chemerinski, who can solve a Rubik's Cube in under three minutes. As of 2009, 13 former Kentucky Wildcats owned NBA championship rings. As of 2009, three Cornell alums owned professional sports franchises. The Kentucky players would just as soon people stop calling them the tournament favorite. The Cornell players would just as soon people stop calling them Cinderella."
USA Today: Compare and contrast Cornell, Kentucky
Amanda Rose: The Canadian writer and activist created Twestival - or Twitter Festival. Thursday's Twestival will involve local charity events in hundreds of cities around the world to raise funds for the estimated 72 million children who have no opportunity to go to school.
In February 2009, the first Twestival Global was held in 202 international cities to support the one in six people in the world who don't have access to clean and safe drinking water. More than 1,000 volunteers and 10,000 donors raised $250,000.
Stuart Craig: Thursday is the day Warner Bros. Entertainment and Universal Studios are scheduled to reveal the date that the Wizarding World of Harry Potter will have its grand opening in Orlando, Florida.
The Leaky Cauldron Web site is reporting June 18. Warner Bros. had announced that Craig, the 67-year-old production designer on all the "Harry Potter" movies, would lead the development of the 20-acre, multimillion-dollar theme park. The park will contain the village of Hogsmeade, the Hogwarts Express, the Forbidden Forest and Hogwarts Castle, among other attractions based on the books by J.K Rowling and the movies that followed.
Ollivanders Wand Shop, according to news releases, promises to be "an incredible interactive experience where the wand chooses the wizard," and a few hundred fan Web sites report that Craig designed the wands with Rowling's approval.
Craig has won three Academy Awards: for "Gandhi" (1982), "Dangerous Liaisons" (1988) and "The English Patient" (1996).
Time Warner is the parent company of Warner Bros. and CNN.
The Wizarding World of Harry Potter
Universal Orlando Resort: Details about the Wizarding World of Harry Potter