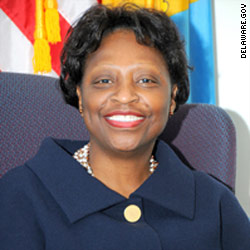 Lillian Lowery: Delaware and Tennessee were the only two states Monday to receive grants in the first round of the $4.35 billion education funding competition "Race to the Top," federal officials announced. Delaware will receive approximately $100 million from the program, while Tennessee will receive $500 million.
To receive the funds, the states had to prove that they were progressing in specific areas including turning around low-performing schools, adopting college- and career-ready standards and using data systems to support student achievement.
From a field of 40 states and the District of Columbia, later narrowed to 16 finalists, Delaware's application scored the highest, according to the U.S. Department of Education.
Lowery, Delaware's Secretary of Education, taught middle and high school English for 17 years in Virginia and North Carolina.
CNN: Tennessee, Delaware schools to get Race to the Top funds
Delaware News Journal: State gets $100 million for schools
Erik Brown: The Southern California Republican consultant and donor's reimbursement request for $1,946.25 for his visit to a topless, orgy-themed Hollywood night club in January caused the Republican National Committee on Monday to investigate why that tab was repaid with party funds. Brown's visit to Voyeur appeared on a monthly disclosure report to the Federal Election Commission.
The Washington Post reports that Brown's company, Dynamic Marketing, has earned more than $160,000 from the RNC. CNN reports that Brown tweeted last October that he attended a Monday night football game with RNC chair Michael Steele, who has already faced criticism about party spending. A committee spokesman told CNN that Brown is returning the money to the party.
Washington Post: RNC expense report renews criticism about Steele's spending
CNN Political Ticker: California Republican returning money after racy club visit
Kimberly DuVall: She's the top-rated college professor in the country, based on student appraisals on the RateMyProfessors.com Web site.
The Washington Post reports that DuVall, who's been teaching at James Madison University in Harrisonburg, Virginia, is beloved by students.
Since its creation by a California college student 11 years ago, RateMyProfessors has collected some 10 million ratings on 1 million professors at 6,500 colleges.
DuVall, who lectures on stress, memory and aging, told the newspaper, "We think, in our society, that we're supposed to do two or three things at a time. If you're washing the dishes, just wash the dishes, and focus on that. Go on the quad and just watch the squirrels. It's relaxing."
Washington Post: Web rankings put lecturer at head of national class
Ricky Martin: The pop singer declared publicly this week what he avoided discussing for years: He is gay.
"I am proud to say that I am a fortunate homosexual man," Martin wrote on his official Web site. "I am very blessed to be who I am."
A decade ago, when ABC's Barbara Walters pressed Martin to address rumors about his sexuality, he declined to confirm or deny them. "I just don't feel like it," Martin said.
"These years in silence and reflection made me stronger and reminded me that acceptance has to come from within and that this kind of truth gives me the power to conquer emotions I didn't even know existed," Martin wrote on his site. 
Martin, 39, started off with the Latin boy band Menudo before launching his solo career in 1991. His song "Livin' La Vida Loca" rose to the top of the music charts in 1999 and propelled Martin to stardom. Martin, 39, said he decided years ago to not share "my entire truth" with the world because people he loved warned him that "everything you've built will collapse."Â CNN: Ricky Martin says he's 'a fortunate homosexual man'
Derrick Martin: The 18-year-old high school senior from Cochran, Alabama, discovered he can take a same-sex date to Bleckley High School's prom on April 17.
The Atlanta Journal-Constitution reports that when he asked the question, he caused his small town of 5,200 people to become part of the national debate over who can invite whom to the prom. School officials in Itawamba, Mississippi, recently cancelled a prom after Constance McMillen requested to bring a girl to her school dance.
The newspaper reports that some applauded Martin for his bravery, while others said his soul is in peril. Superintendent Charlotte Pipkin released a statement saying the school board's decision "is not an endorsement of any particular practice or life style, but rather recognition of the legal environment in which public schools operate today."
Martin said he plans to attend Georgia Southern University then law school. Someday, he said, maybe he'll become a state or U.S. attorney general.
Atlanta Journal-Constitution: Making a prom date changes his fate