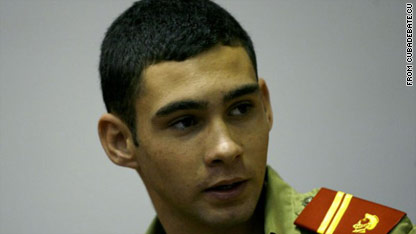 Cuba has published photos of Elian Gonzalez, the boy who sparked a political battle with the U.S. in 2000, attending a gathering of the Union of Communist Youth.
Gonzalez, 16, appears in the olive-green uniform of the military school he attends, waving a Cuban flag, in photos posted on an official Cuban Web site, Cubadebate.cu.
Gonzalez was picked up in an inner tube off the coast of Florida when he was 5 years old. His mother drowned trying to reach the U.S. on a raft, and a bitter custody battle ensued between his father in Cuba and relatives in South Florida.
Fidel Castro, then Cuba's leader, led massive marches demanding his return, and when the boy finally did fly back to Cuba, he was received as a hero.
The photos were taken during the annual meeting of the Union of Communist Youth held over the weekend; Gonzalez joined in 2008. The headline over the photos reads: "Elian Gonzalez, a look 10 years later."