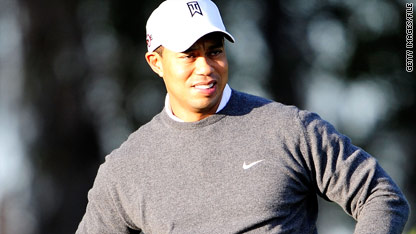 Fewer than four in 10 Americans have a favorable view of Tiger Woods, down a few percentage points from the previous month, according to a new national poll released Monday.
The CNN/Opinion Research Corporation survey indicates that 39 percent of the public views Woods in a positive light, down four points from March, when 43 percent had a favorable view of him.
"His ratings seemed to have slipped most among men and higher-income Americans," said CNN Polling Director Keating Holland. "The reason for the differences is unclear. It's probably not his participation in the Masters this weekend, since in an earlier poll only one in five said that Woods should wait longer before returning to professional golf. And it wasn't his fourth-place showing in the Masters, since most interviews were conducted before the results were known."
Whatever the reason, Woods' public image has dropped a long way. Until recently, Woods was one of the most popular figures in America, with favorable ratings exceeding 80 percent.
Following his car accident in the early morning hours after Thanksgiving night, Woods still was viewed positively by six in 10 Americans. But after his subsequent admission of infidelity, his rating dropped to 34 percent. It has increased a little since then, but Woods seems unlikely to regain all of his popularity in the near future.
The CNN/Opinion Research Corporation poll was conducted Friday through Sunday, with 1,008 adult Americans questioned by telephone. The survey's overall sampling error is plus or minus 3 percentage points. - CNN's Paul Steinhauser contributed to this story