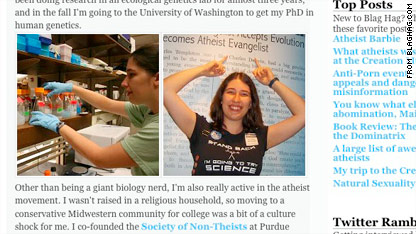 It started as a college student's snide response to an Iranian cleric's assertion that scantily clad women cause earthquakes.
But as of Thursday, it had become much, much bigger.
Jen McCreight, a self-described atheist, feminist and geek "trapped in Indiana," took issue with Hojatoleslam Kazim Sadeghi's message during Friday prayers in Tehran, the Iranian capital.
The hard-line cleric, who was standing in for Supreme Leader Ayatollah Khamenei, said women who dress provocatively – thereby tempting men – are to blame for the world's temblors.
"When promiscuity spreads, earthquakes increase," he said. "There is no way other than taking refuge in religion and adapting ourselves to Islamic behavior."
McCreight, who is pursuing a double major in genetics and evolution, took to her blog, Blag Hag, on Monday, demanding that the world's women band together in a scientific experiment to test the merits of Sadeghi's hypothesis.
"Time for a Boobquake," she wrote. "On Monday, April 26, I will wear the most cleavage-showing shirt I own. ... I encourage other female skeptics to join me and embrace the supposed supernatural power of their breasts. Or short shorts, if that's your preferred form of immodesty."
She continued, "With the power of our scandalous bodies combined, we should surely produce an earthquake. If not, I'm sure [Sadeghi] can come up with a rational explanation for why the ground didn't rumble."
Boobquake's Twitter account quickly snared more tweets than a bird sanctuary, and its Facebook page had almost 50,000 "confirmed guests" as of Thursday afternoon.
"Nice to know that WOMEN are SO powerful that they can make men AND nature quake with a flash of her breasts! LOL!" wrote one visitor to the Boobquake Facebook page.
McCreight's idea garnered so much attention, including criticism from people who feared she was making light of natural disasters, the Purdue University senior returned to her blog Wednesday to offer a "quick clarification."
She acknowledged the widespread attention Boobquake had drawn and said a Canadian newspaper and an Irish radio station had requested interviews with her.
"Because I made a boob joke," she wrote. "I just want to apologize if this comes off as demeaning toward women. To be honest, it started as a silly joke that I hurriedly fired off since I was about to miss the beginning of 'House.' I never thought it would get the attention it did. If I would have known, I would have spent more time being careful about my wording."
She didn't back off, however, and said she was asking women to don immodest outfits on the same day "for the sake of the experiment." To allay concerns of unnamed scientists, she promised to collect statistics on the frequency and severity of earthquakes that day.
"And yes, I know I need a larger sample size to make this good science. Maybe I'll include Mardi Gras in my calculations," she wrote.
She said no woman should feel pressured to participate.
"It's not supposed to be serious activism that is going to revolutionize women's rights, but just a bit of fun juvenile humor," she wrote. "I'm a firm believer that when someone says something so stupid and hateful, serious discourse isn't going to accomplish anything - sometimes light-hearted mockery is worthwhile."
Back on Boobquake's Facebook page, McCreight took a moment to be serious and encouraged followers to consider donating money to the American Red Cross' disaster relief efforts or to the AHA Foundation, an organization that strives to "defend the rights of women in the West against militant Islam."