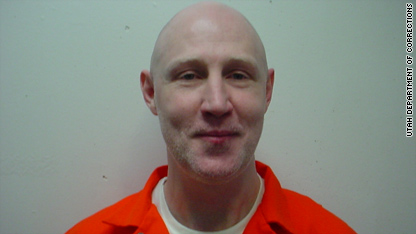 A Utah judge signed a death warrant Friday allowing the state to execute Ronnie Lee Gardner using a five-man firing squad, a spokeswoman for the Utah's state court system told CNN.
Before signing the death warrant, Third District Judge Robin Reese asked Gardner if he wanted to be executed by the method he had chosen previously, spokeswoman Nancy Volmer said.
"I would like the firing squad, please," Gardner replied.
It would be the state's first use of the firing squad since 1996, when John Albert Taylor was executed for the rape and murder of an 11-year-old girl. Taylor said he chose the method to embarrass Utah, which at the time was the only state that offered the firing squad as an option.
Gardner's execution date was set for June 18, 2010. However, Gardner's lawyer said he planned to file an appeal, which could change the date, Volmer said. Gardner was convicted of murder in the 1985 killing of an attorney during a courthouse escape attempt.
A change in Utah's law took the firing squad away as an execution option. But inmates, like Gardner, who have already chosen the firing squad can still be executed that way, according to the Death Penalty Information Center.
Oklahoma offers the firing squad as an option - but only if lethal injection and electrocution are later found to be unconstitutional, according to the Death Penalty Information Center.
The country's most famous execution by firing squad was when Gary Gilmore was killed using a firing squad in 1977. Asked for any last words before guns were fired, Gilmore replied: "Let's do it!"
His execution was also the inspiration for Norman Mailer's book "The Executioner's Song."