Staff at the Tri-State Bird Rescue & Research in Louisiana hydrate a Northern Gannet bird that was pulled from the oil-filled waters of the Gulf Saturday.
[Updated at 11:15 p.m.]
As officials and Gulf Coast residents wait for oil from a massive spill to reach land, the slick has already taken a dramatic toll on life all along the Coast, bringing fishing and tourism to a halt in many places and threatening to cripple those industries for weeks to come.
Read more on CNN.com
.
[Updated at 10:57 p.m.] The jovial mood of Saturday's White House Correspondents' Dinner turned somber for a few moments as President Obama addressed the crisis on the Gulf Coast.
"Even as we enjoy each others' company tonight, we're also mindful of the incredible struggles of our fellow Americans on the Gulf Coast, both those leading the efforts to stem this crisis and those along the coast whose livelihoods are in jeopardy."
[Updated at 9:21 p.m.] Aquariums and animal sanctuaries in several Gulf Coast states are preparing for rescue efforts as the first oil covered animals are being pulled from the contaminated waters.
The Suncoast Seabird Sanctuary in Indian Springs, Florida, is seeking donations of rags, brushes and dish soap to assist in cleaning the animals, CNN affiliate Central Florida News 13 reports. Peptol Bismol can also be used to coat birds' stomachs if they ingest oil.
Staff at the Aquarium of the Americas in New Orleans, Lousiana, told CNN affiliate WBZR that the spill could not have come at a worse time for the endangered Kemp sea turtle, which was in the midst of migrating across the Gulf to Mexico to nest.
WBZR reports that the aquarium is preparing to take in dozens of sea turtles each day and place them in tubs filled with water, kelp and rocks to simulate their natural habitat. The staff told WBZR that regular household supplies like dish detergent and mayonnaise work best to clean their shells, but the hard part is tending to the damaged lungs and liver tissue.
[Updated at 6:11 p.m.] Volunteer agencies are mobilizing thousands of people through phone registries and websites to respond to a large mass of oil drifting toward the Gulf Coast. But many people are still awaiting orders, journalist Craig Johnson reports.
[Updated at 5:07 p.m.] The Mobile Bay National Estuary Program is gathering contact information here for people who want to volunteer to reduce the impacts of the oil spill. The organization notes that volunteers are not being deployed at this time, but says it will keep volunteers updated.
The group also cautions against touching or approaching oiled wildlife, as it may pose health and safety risks to humans and animals. Please contact BP's Oiled Wildlife Response Hotline immediately at 866-557-1401, with information such as the type and number of animals, location, when you saw it and a contact phone number.
The Gulf of Mexico Sea Grant Programs is also constantly updating a web page devoted to the spill. Information from the National Oceanic and Atmospheric Administration and satellite imagery from the Louisiana State University Earth Scan Lab's website are just a few of the resources.
[Updated at 4:13 p.m] There's no way to stop oily water from reaching land along the Gulf Coast, but experts will use tools both massive and microscopic to clean it up, reports CNN.com's Jim Kavanagh.
He spoke to Ralph Portier, a professor of environmental sciences at Louisiana State University, who said that oil-soaked sand on beaches in the eastern Gulf Coast can be scooped up with heavy equipment, but the grassy marshes in the Mississippi Delta can't be handled that way.
Along the Louisiana and Mississippi coast, "you're talking about a sea of grass, if you will," similar to the Florida Everglades, Portier said. "When it gets oiled, if you try and remove some of this stuff, you're going to do more damage than good.  "In Gulf Shores, Alabama, and Destin, Florida, you can do that, but not here in what we like to call the Redneck Riviera," the southern Louisiana native said.
[Updated at 3:42 p.m.] See what's involved in cleaning up an oil spill, and a list of some of the worst oil spills in U.S. and world history.
[Updated at 3:31 p.m.] Tom MacKenzie of the U.S. Fish and Wildlife Service told CNN the oil spill could endanger turtles and manatees. "We can't boom the entire coast line," he said. "So, do we expect a hit? Absolutely."
"This has the potential of being truly devastating."
[Updated at 3:14 p.m.] WDSU reports that BP has changed the phone number for its "Vessel of Opportunity" program to 281-366-551. The program was set up to incorporate fishermen and boaters for the oil spill clean-up effort, WDSU reports.
[Updated at 2:17 p.m.] CNN.com's Amy Zerba created this gallery of images showing the response to the oil spill.
[Updated at 2:10 p.m.] The impact of the oil slick is expected to be felt along the Gulf Coast during the next two days, according to the National Oceanic and Atmospheric Administration. This NOAA graphic  shows possible locations of impact through Monday. The graphic was prepared by NOAA on Wednesday.
[Updated at 1:37 p.m.] The U.S. Coast Guard had this update around 10:45 a.m. Saturday morning on the efforts to contain the Gulf Coast oil spill:
- The Coast Guard estimates at least 1.6 million gallons of oil have leaked so far.
- Nearly 2,000 personnel are involved in the effort.
- Two platforms in the "sheen area" have stopped production and one has been evacuated as a safety measure.
- Approximately 6.2 million cubic feet of natural gas is shut off, representing "less than one-tenth of a percent of daily gas production in the Gulf of Mexico," according to the Coast Guard.
- More than 275,580 feet of boom (barrier) has been assigned to contain the spill.  An additional 316,470 feet is available.
- To date, the oil spill response team has recovered 23,968 barrels (1,006,656 gallons) of an oil-water mix.
- 68 response vessels are being used including skimmers, tugs, barges and recovery vessels.
- 142,914 gallons of dispersant have been deployed and an additional 68,300 gallons are available.
The Coast Guard reports that six staging areas are in place:
- Biloxi, Mississippi
- Pensacola, Florida
- Venice, Louisiana
- Pascagoula, Mississippi
- Theodore, Alabama
- Port Sulphur, Louisiana.
[Updated at 12:48 p.m.] In the photo below, a Northern Gannet bird -– which is apparently normally white when fully grown -– is being treated with eye drops to remove the oil in Fort Jackson, Louisiana.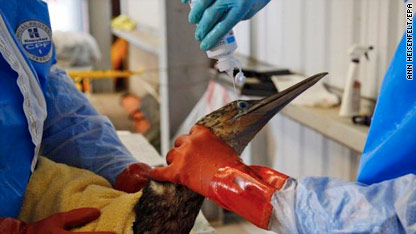 The photograph was taken by Ann Heisenfelt of the European Press Photo Agency.
[Updated at 12:40 p.m.] CNN's Jim Boulden explains the circumstances behind the leak and the consequences for oil giant BP.
[Updated at 12:25 p.m.] The oil spill could decimate seafood industries in the gulf, says Casie Callaway, the executive director of Mobile Baykeeper, an environmental advocacy group. The potential worst case scenario is that "we won't have shrimp or oysters" and it could take years to recover, Callaway said.
[Updated at 10:53 a.m.] Who's to blame for the massive oil leak in the Gulf of Mexico? CNN's Joe Johns reports that the  fingerpointing has started and includes oil well owner BP, the rig operator and regulators, as well as Congress and oil industry lobbyists.
[Updated at 10:51 a.m.] Sierra Club president Michael Brune says the Gulf Coast oil spill "puts our desperate need for a new clean energy economy in stark relief. We need to move away from dirty, dangerous and deadly energy sources."
[Posted at 8:12 a.m.] President Obama will visit the oil spill area near the Louisiana coast Sunday morning, a White House official said Saturday.
In order to minimize disruption to the recovery effort, Obama's trip will involve only a small group, the White House said.
The announcement came as Gulf Coast residents braced for the arrival of a massive oil slick creeping toward shore. Landfall along the Mississippi River Delta and other Gulf areas could come Saturday.
The oil spill started April 20 in the Gulf of Mexico after an explosion on the BP-operated Deepwater Horizon drilling platform. Eleven oil rig workers remain missing and are presumed dead.
The rig sank April 22 about 50 miles (80 km) off the southeast coast of Louisiana, and the untapped wellhead is gushing about 5,000 barrels of oil a day into the Gulf.
BP said two Louisiana communities - Venice and Port Fourchon - will be the first places likely hit by the oil slick.