[Updated 10:29 p.m.] The effort to place a massive containment dome over a gushing underwater wellhead in the Gulf of Mexico was dealt a setback when a large volume of hydrates - ice-like crystals formed when gas combines with water - accumulated inside the vessel, a BP official said
Saturday. 
The dome was moved off to the side of the wellhead and is resting on the
seabed while crews work to overcome the challenge, a process expected to take at least two days, BP's chief operation officer Doug Suttles said.
Read the full story on CNN.com
[Updated 10:02 p.m.] A llama in north Texas is doing her part to help relief efforts by giving up the hair off her back, CNN affiliate WDSU reports.
Candycane's owner, Steve Berry, is donating her hair so it can be made into absorbent pads, or booms, to soak up oil in the Gulf of Mexico.
"Llamas don't have any oil in their hair," Berry, a retired Arlington firefighter and Hood County commissioner, told WDSU. "So not being oily it's a perfect absorbent."
Berry, a member of the South Central Llama Association, put out a call to other llama owners in the region, offering to give haircuts if need be, according to WDSU.
Each llama yields about four to five lbs. of wool, said Berry, who will ship it all the New Orleans, Louisiana.
[Updated 9:24 p.m.] Tar balls ranging in size from dimes to golf balls were found Saturday on the beach on Dauphin Island, Alabama, the Deepwater Horizon Incident Joint Information Center said.
Analysis of the tar balls to determine the origin of the oil may take up to 48 hours, the center said in a press release. Tar balls are occasionally found on the shores of the Gulf of Mexico, residents told CNN. The tar balls were collected in a pom-pom shaped material known as snare boom that were placed around Dauphin Island.
Reports of tarballs can be made to the U.S. Coast Guard at any time at 1-800-448-5816.
[Updated 7:09 p.m.] By the numbers, to date, according to the Deepwater Horizon Incident Joint Information Center:
– 10,000: Number of deployed personnel currently responding to protect shoreline and wildlife.
– 270: Vessels responding on site, including skimmers, tugs, barges, and recovery vessels, to assist in containment and cleanup efforts, in addition to the dozens of aircraft, remotely operated vehicles, and multiple mobile offshore drilling units.
– 923,000: Approximate amount of boom in feet that have been deployed to contain the spill.
– 2.1 million: Gallons of an oil-water mix that have been recovered.
– 290,000: Gallons of dispersant have been deployed.
– 10: Staging areas set up to protect shoreline in Gulf Coast states that could be affected. The staging areas are in Biloxi, Mississippi; Panama City, Florida; Pensacola, Florida; Pascagoula, Mississippi; Dauphin Island, Alabama; Port Sulphur, Louisiana; Shell Beach, Louisiana; Slidell, Louisiana; Port Fourchon, Louisiana and Venice, Louisiana.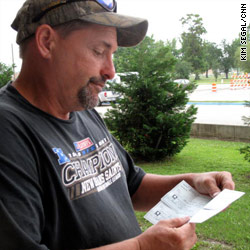 [Updated 5:38 p.m.] It was payday Saturday for some fishermen in Louisiana, but the check wasn't for what they pulled out of the water - it was for what they put into the water.
Parish officials handed out paychecks Saturday morning to fishermen who worked from May 1st to­ 4th laying boom in the contaminated waters where they usually go fishing and shrimping. They were the first locals hired by BP, the company that owns the well at the heart of the oil spill, to help clean up the Gulf. With so many in the fishing industry affected by the oil spill, St. Bernard's Parish has set up a rotation system for those looking for work. The lucky ones will find their name on the work schedule again before the end of the month.
The amount of the check depended on one's position - a captain was paid more than a deck hand. An additional check was cut for those who used their boats. Fisherman Rafe Regan said he earned $460 a day working as a captain. He also said he received $500 a day for using his boat. That may sound like good money for a day's work but Regan says during oyster season he can earn as much as $3600 a day.
Fisherman Bobby Lovell said he earned just enough money to cover the cost of pulling his crab traps out of the water. The traps are in an area that is now off limits to fishing. Lovell is so worried about supporting his family that he plans to show up at the marina every day in case an extra person is needed. Lovell thinks he may have some luck getting a spot on a boat tomorrow. He says his wife may not be too pleased because it's Mother's Day, but according to Lovell that is why he wants to go - someone is bound to stay home, he believes.