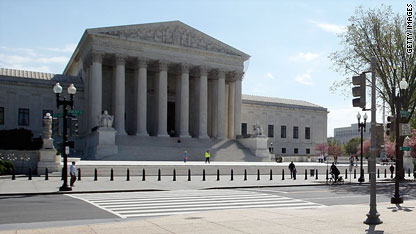 The Supreme Court on Monday handed down rulings on three separate cases that focused on continuing to hold sex offenders in prison after their sentence, whether life in prison without parole is appropriate for juveniles and how much power the federal courts have to intervene when child custody battles cross borders and countries.
Sentencing juveniles to life in prison without parole 'cruel and unusual'

Sentencing some juvenile criminals to life in prison without parole is "cruel and unusual" punishment, especially when their crime is not murder, the Supreme Court ruled Monday.
The justices by a 6-3 vote found such a sentence for a 16-year-old armed robber from Florida was unconstitutional. The court concluded life without parole is not justified for those offenders who may lack full "culpability" for their actions, because of their ages.
"A state need not guarantee the offender eventual release, but if it imposes a sentence of life it must provide him or her with some realistic opportunity to obtain release before the end of that term," write Justice Anthony Kennedy for the majority.
The appeal came from Terrance Graham, who was 16 and 17 when he took part in a series of violent home-invasion robberies while on parole for another felony.
The high court in 2005 said juvenile murderers cannot be executed, and Kennedy applied the same standards in this case, saying a "national consensus" had developed against life without parole sentences for those under 18 at the time of their crimes.
States rethink 'adult time for adult crime'
Judge: Boy, 12, will be tried as adult in double homicide
Court says sex offenders can be held indefinitely
The Supreme Court ruled Monday the federal government has the power to indefinitely keep some sex offenders behind bars after they have served their sentences, if officials determine those inmates may prove "sexually dangerous" in the future.
"The federal government, as custodian of its prisoners, has the constitutional power to act in order to protect nearby (and other) communities from the danger such prisoners may pose," Justice Stephen Breyer wrote for the 7-2 majority.
At issue was the constitutionality of federal "civil commitment" for sex offenders who are nearing the end of their confinement or who are considered too mentally incompetent to stand trial.
The main plaintiff in the case, Graydon Comstock, was certified as dangerous just six days before his 37-month federal prison term for processing child pornography was to end. He and the others filing suit remain confined at Butner Federal Correctional Complex near Raleigh, North Carolina.
Three other inmates who filed suit served prison terms of three to eight years for offenses ranging from child pornography to sexual abuse of a minor. Another was charged with child sex abuse, but was declared mentally incompetent to face trial.
All were set to be released nearly three years ago, but government appeals have blocked their freedom.
High court rules for father in international child custody case
The Supreme Court has ruled for a British father seeking to regain custody of his son, who was taken by his mother from Chile to Texas, a dispute testing the power of federal courts to intervene when fights over children cross borders.
The justices, by a 6-3 vote, said Timothy Abbott, who is fighting to gain custody and the return of his son, has a right of custody to force the boy's return, after courts in Chile said the father had rights as a non-custodial parent.
At issue is the scope of an international treaty, and whether one country's court order preventing a child from being taken overseas by a parent represents "rights of custody" enforceable in the United States.