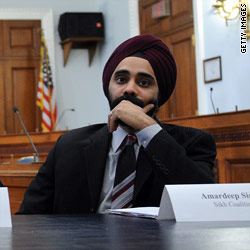 Amardeep Singh
The co-founder and director of programs of the Sikh Coalition, the largest Sikh civil rights organization in the United States, will be among those speaking today at a House Judiciary Subcommittee hearing on racial profiling in law enforcement policy. Singh is scheduled to talk about the racial profiling he has experienced since 9/11, especially from those who thought he is Muslim. He is Sikh, a religion founded 500 years ago and practiced today by more than 20 million people worldwide. Singh has represented dozens of Sikh victims of airport profiling, employment discrimination and hate crimes. With Department of Homeland Security officials, he helped to formulate guidelines governing the searches of Sikh passengers in U.S. airports. While at Human Rights Watch, Singh wrote the report, 'ÄúWe Are Not the Enemy: Hate Crimes Against Arabs, Muslims, and Those Perceived to be Arab or Muslim after September 11.'ÄĚ
CNN.com: Army allows Sikh to keep beard, turban, uncut hair
Jonathan Kahn
The singer-songwriter of the Tea Party anthem 'ÄúAmerican Heart'ÄĚ was so fearful of being ostracized in the industry where he earned his living, as a Hollywood screenwriter and director, that used a fake name: Jon David. The Wall Street Journal reports that Kahn, who opened for former Alaska Gov. Sarah Palin at a Tea Party convention last February in Nashville, Tennessee, told the newspaper that he despises what he sees as the movie community'Äôs core hypocrisy - 'Äúhow it benefits so much from capitalism and bashes it at the same time.'ÄĚ

Wall Street Journal : Tea Party troubadour sheds sunglasses, hat and fake name
Saji George
A man who may be North Texas' first Indian-American elected official was sworn in Monday night. George told CNN on Monday that he came to the United States from India in 1989 to study at Texas Tech University, where he received a Master of Science degree in mechanical engineering. He said he thinks he'Äôs the first non-Caucasian ever elected to the Sunnyvale Town Council. He said, 'ÄúIt'Äôs a significant achievement - an historic moment. In North Texas, no Indians have ever won an election, as far as I know. People live and die here, so for an immigrant to come here and be accepted - I got 70 per cent of the vote - it says a lot about how perceptive this community is for new ideas.'ÄĚ George said his main goal is to bring quality businesses to Sunnyvale, population 4,000, that will have a positive economic impact, but not change its small-town character.
Saji George for Sunnyvale Town Council
Zach Veach
UN Secretary-General Ban Ki-moon, Transportation Secretary Ray LaHood and U.S. Ambassador to the UN Susan Rice are scheduled Wednesday to launch a global campaign to address the dangerous and growing problem of distracted driving. The 15-year-old race car driver from Stockdale, Ohio, is doing his part. According to his website, Veach is trying to persuade all 33 drivers who qualify for this year'Äôs Indianapolis 500 to sign Oprah Winfrey'Äôs 'ÄúNo Phone Zone'ÄĚ anti-texting-while-driving petition. The 5-foot-2, 95-pound USF2000 National Championship driver plans to join the IZOD IndyCar Series as a competitor once he graduates from the three-year 'ÄėRoad to Indy'Äô training program that he'Äôs now in. On his 16th birthday this December, he'Äôll publish his first book about the life of teenagers, which will include a chapter on safe driving. Veach now has a special license that allows him to drive on race courses. Next month, he'Äôll apply for his Ohio driver'Äôs permit.
CNN.com video: Don't text and drive, Oprah Winfrey says
Kim Romano
The Manville, New Jersey, driver has a sense of humor, even if the Motor Vehicle Commission isn'Äôt laughing. The website NJ.com reports that the 49-year-old is known in her small town by her dark blue Chrysler convertible; more specifically, because of her personalized license plates. For four years, the plates have featured the letters 'ÄúBIOCH.'ÄĚ After one complaint, the Motor Vehicle Commission has now recalled her plates, and they won'Äôt renew her registration in June unless she surrenders them. "It'Äôs not offensive," she said. "It'Äôs not even a real word."
NJ.com: Manville woman must forfeit her 'Bioch' license plates after complaint of profanity