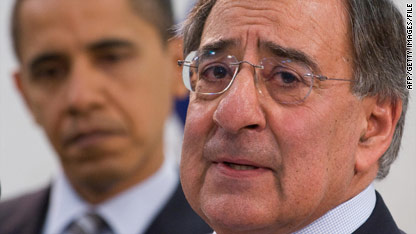 So much for being covert.
CIA Director Leon Panetta is currently on his ninth mission overseas, a high-profile visit to Pakistan with National Security Advisory James Jones.
Usually CIA trips are kept way under the radar. The nation's top sleuth, and probably most of his international peers, prefer working in the shadows. But when it comes to Pakistan, it seems to slip out, one way or another, that he is in country.
Shortly after being sworn in as the new CIA director 15 months ago, Panetta met with Pakistani leaders. The usually behind-the-scenes meeting was turned into a photo-op by the Pakistanis.
He was back there in November, according to Pakistani reports.
U.S. officials readily confirmed his participation in the current trip. White House counterterrorism chief John Brennan said Panetta and Jones were in Pakistan to talk with officials about the relationship of the accused Times Square bomber with the Pakistani Taliban and "to underscore the importance that all efforts are taken to suppress terrorism that emanates from that part of the world."
There have been a couple of other sightings of Panetta overseas. He was videotaped in India on the same trip that took him to neighboring Pakistan in March 2009. The CIA was mum about news reports of his visiting Israel.
Overall, Panetta has visited 22 countries since taking office, CNN has learned.
Why so much travel? A U.S. intelligence official said Panetta "places a powerful emphasis on strengthening our government's relationships with other intelligence services, especially those with whom it's vital to work in areas such as counterterrorism and counterproliferation."
The official added, "those personal ties mean a freer and better flow of ideas and information."
But there's another reason for the overseas jaunts. The intelligence official says Panetta has made it a priority to visit CIA officers in the field, meeting with more than a thousand agency personnel.