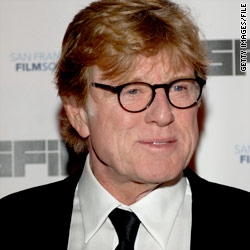 Robert Redford
The actor and activist is calling on President Obama and Congress to put America back in control of its energy future. In a Huffington Post essay, Redford writes, "The American Power Act, drafted by Senators Kerry and Lieberman, is not perfect– but it is a significant step toward cutting our dependence on fossil fuels, limiting carbon pollution, and encouraging businesses to shift to clean energy sources."
Redford explains that he worked with the Natural Re
sources Defense Council to record a new commercial asking that leaders in Washington "stand up to big oil." Thursday marks one month since BP's oil rig exploded in the Gulf of Mexico, killing 11 people and creating what may be one of the country's worst environmental disasters.
The Huffington Post: Mr. President: Now Is the Time For Clean Energy
National Resources Defense Council
Mimi Sulpovar
Pakistan on Thursday blocked access to YouTube - a day after it shut down social networking site Facebook - in response to an online group calling on people to draw the Prophet Muhammad. The Pakistan Telecommunication Authority ordered operators to shut down the video-sharing site "in view of growing sacrilegious content on it," officials said in a statement.
Devout Muslims consider it offensive to depict Muhammad. There were riots around the world in 2005  in response to a series of cartoons of Muhammad in a Danish newspaper.
Sulpovar, who started the Facebook group, said she read about the idea on a blog after Comedy Central bleeped out part of an episode of "South Park" that mentioned the prophet.
"This is meant to be in protest," she said. "This is something I have felt strongly about for a long time: Bullying by certain Muslim groups will not be tolerated in a free country," said Sulpovar, who is American.
CNN.com: Pakistan blocks YouTube, Facebook over 'sacrilegious content'
Floyd Landis
The American cyclist whose 2006 Tour De France victory was nullified after a positive doping test now admits to using performance-enhancing drugs. He also claims that other Americans did the same, including seven-time Tour winner Lance Armstrong.
The Wall Street Journal reports that Landis, who has denied drug use ever since the U.S. Anti-Doping Agency suspended him from the sport for two years, sent emails to cycling officials and sponsors, saying he and other riders took synthetic blood thinners and steroids. He also called current anti-doping efforts "a charade." Landis has presented no proof of the allegations against others.
Wall Street Journal: Cyclist Floyd Landis admits doping, alleges use by Armstrong and others
Michelle Pelton
The former student athlete from Massachusetts is scheduled to testify Thursday at a House Education Committee hearing on "The Impact of Concussions on High School Athletes."
According to her prepared testimony, Pelton's first two concussions occurred during junior high school basketball games. Her life changed to include hospitalization, headaches, dizziness, memory loss, lack of concentration and depression.
More sports—and more concussions—followed.
"I cannot even begin to explain the daily struggle my life has become and everything I have lost because of my concussions," she says. "No one can see my injury, but it's there."
Pelton, 19, doesn't want one more student athlete to endure what she has been through. She says lawmakers need to encourage a standard policy across the country.
Julian Galindo
The former Marine from Nebraska saw his dream come true. Galindo, 50, suffers from a rare degenerative brain disease. Doctors have given him a limited prognosis.
He wrote to the Dream Foundation that it was his lifelong wish to watch the Marine Corps Evening Parade and Silent Drill performance at the nation's oldest Marine post in Washington. On May 14, shortly after Galindo and his wife, Vicky, arrived at the Marine barracks, they heard the announcement that the parade was cancelled because of rain.
While Galindo visited with Marines in the barracks, the rain let up and the clouds parted. Then, the Marines who were still there decided to get back into their event uniforms and put on a special performance just for the Galindos, who sat alone watching in the stands.
"The Marines did not receive a directive," said Capt. Lisa Lawrence. "They independently decided to do this for Julian, their fellow Marine."