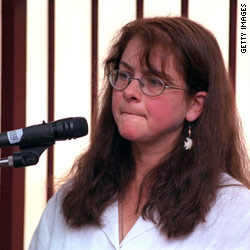 Lori Berenson
The U.S. citizen jailed in Peru since 1995 for helping leftist rebels has been granted conditional release, a judge announced. Berenson has served nearly 15 years of a 20-year sentence for aiding Peruvian rebels in a 1995 plot to overthrow Peru's Congress. Berenson, 40, who last year gave birth in prison to a son, Salvador, has long maintained her innocence. Her parents in New York welcomed the news of her release. "My wife Rhoda and I were ecstatic," Mark Berenson told CNNI. "We were waiting for this day for 14½ years." On the website freelori.org, the Berensons said their daughter and her son will be leaving prison "in a few days" and plan to move to an apartment in Lima, because parole requires they remain in the city in which they were incarcerated.
CNN: Berenson wins release from Peru prison
Zygmunt J.B. Plater
If the Exxon Valdez tanker disaster in 1989 is any guide, the Boston College law professor says, the Deepwater Ho
rizon spill in the Gulf of Mexico will create a complicated legal mess that will take years to sort out. Plater told National Public Radio that Exxon faced 17 categories of lawsuits and that each category represented thousands of aggrieved parties. After all the lawsuits, Exxon paid those parties $507 million in compensation. Exxon also paid the same amount in punitive damages. Plater chaired the legal task force for the state-appointed Alaska Oil Spill Commission that investigated the 1989 spill. He says liabilities from the Gulf spill will probably be bigger than those from the Exxon Valdez. "The Gulf coastline population is 10 times, 20 times greater than the coastline of Alaska," Plater says. "And the economy is many times greater than the maritime economy of Alaska."

NPR: Legal complications grow as Gulf oil spill expands
Richard K. Jones
The Butler County sheriff, along with GOP state Rep. Courtney Combs, want Ohio law enforcement officials to have more powers to enforce immigration laws in their state, so they paid for a three-day trip to Arizona this week to see what's going on there. The Middletown Journal reports that the two, who made a similar trip in 2007, met with Arizona sheriffs, ranchers and local immigration reform advocates. "It appears that the violence, the breaking and entering has gotten worse," Jones said. "And I feel that it's between despair from a lot of the people that live here on the border, and maybe just a little bit of anarchy where they're going to start taking care of themselves."
Middletown journal: Border visit boosts resolve for immigration reform in Ohio
Pamela Geller
The conservative blogger spent $10,000 to buy controversial ads on 40 New York City busses. The New York Daily News reports that Geller and the Stop the Islamization of America campaign purchased ads that read, "Fatwa on your head? Is your family or community threatening you? Leaving Islam? Got Questions? Get Answers!" The bus ads direct readers to a website for those answers. The newspaper reports that the ads are angering Muslims in the city. "Will it bother Islamic supremacists? Yes," Geller said.
New York Daily News: Pamela Geller, blogger with Tea Party ties, launches ad crusade against 'Islamization of America'
Stop Islamization of America website
John Mark Karr
The Atlanta, Georgia, native who had claimed he was the killer of 6-year-old child beauty pageant winner JonBenet Ramsey has legally changed his name to Alexis Reich and is reportedly preparing to undergo gender reassignment surgery. According to the Atlanta Journal-Constitution, a former student of Karr's, Samantha Spiegel, 19, alleges he is changing his gender in order to gain access to little girls. Spiegel, who obtained a restraining order against Karr, produced e-mails at a court hearing in San Francisco, California, last month that back up the charge. On April 10, Karr allegedly wrote: "If you cost me my little girls I will hunt you down and kill you," according to KING-TV. Karr was cleared as a murder suspect after Colorado law enforcement officials determined his DNA did not match the male DNA discovered on Ramsey's body.
Atlanta Journal-Constitution: Ex-Atlantan John Mark Karr has new name, familiar troubles