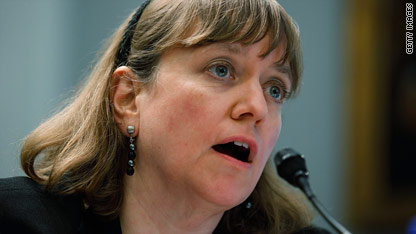 [Updated at 11:07 a.m.] Interior Secretary Ken Salazar told the House Appropriations subcommittee that Minerals Management Service Director Elizabeth Birnbaum resigned.
"She did it on her own terms and own volition," Salazar said. "But I will say she is a strong and very effective person who among other things helped us break through the very difficult things, which we have a lot more work to do. She helped us with addressing a very broken system. And all I can really tell this committee is that she is a good public servant."

[Posted at 10:51 a.m.] Elizabeth Birnbaum, director of the U.S. Minerals Management Service which oversees offshore drilling, has been fired, a source tells CNN.
A senior administration official also told CNN that Birnbaum has been fired and that an official announcement will come at the President Obama's news conference, which is scheduled for 12:45 p.m. ET Thursday.
The decision to fire Birnbaum comes in the wake of a recently released report highlighting what many observers have characterized as widespread corruption at the Minerals Management Service (MMS), which is part of the Interior Department.
Among other things, the report, issued by the Interior Department's inspector general, revealed that federal inspectors overseeing oil drilling in the Gulf of Mexico accepted meals and tickets to sporting events from companies they monitored.
In one case, an inspector in the MMS office in Lake Charles, Louisiana, conducted inspections of four offshore platforms while negotiating a job with the company, the report stated.
As part of the growing push to crack down on the MMS, Sen. Bill Nelson, D-Florida, introduced legislation Wednesday requiring federal oil industry regulators to wait at least two years after leaving government service before going to work for companies they helped regulate.
Among other things, the bill would bar regulators from accepting gifts from oil companies. It also would require regulators to divest any stock they may currently hold in oil companies, and prohibit regulators from part-time employment in the industry.
While introducing the bill, Nelson blasted a "cozy, incestuous relationship between the oil industry and the regulators."