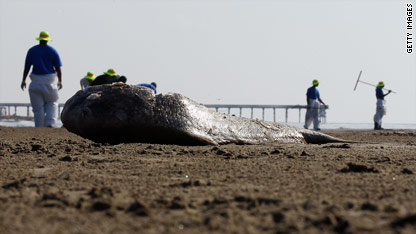 Oil: Overwhelmingly, the most searched topic on the web on Thursday was the crisis in the Gulf of Mexico, now in Day 38. New estimates of the amount of crude in the water may make it bigger than 1989's Exxon Valdez disaster and the worst oil spill in U.S. history.
Everyone was on edge about whether BP's latest effort - called "top kill" - would cap the flow of oil from a well that has been gushing since late April. The public might not have heard much about the Minerals Management Service (it oversees offshore oil drilling), but they were Googling it fiercely as former Director Elizabeth Birnbaum resigned under pressure. At an afternoon presser, President Obama said he didn't know the circumstances of Birnbaum's departure but praised Interior Secretary Ken Salazar for "cleaning house" and addressed criticism that the administration hasn't been aggressive enough in responding to the spill. "Those who think we were slow," he said, "don't know the facts." Obama admitted he was wrong about one thing: believing that the oil companies had "their act together."
"Idol": There couldn't be a more opposite topic to the oil spill. Congrats, Lee DeWyze, for becoming America's next voter-approved star, but hey, let's move on to what everyone is burning about: Why were past Idols M.I.A. on Wednesday night? David Cook? Crickets. Daughtry? Absent. Adam Lambert told Entertainment Weekly he wasn't there because he was sick but then tweeted that he had not been asked to join the long list of crooning alums that included (really) William Hung! The hottest performance of the night, if you're counting clicks, and we are, was Janet, Miss Jackson If You're Nasty. For you kids who don't remember, that's a shout-out to the "Nasty" video, which ex-"Idol" judge Paula Abdul choreographed and Jackson reprised on the finale.
Coke: Jamaica rarely makes major news, but this week was different. Fighting has raged in the streets of Kingston, and dozens of people have been killed. The chaos erupted this week after Prime Minister Bruce Golding said he would allow the courts to decide whether to extradite Christopher Coke, a request the U.S. made last year. Some in Jamaica call him a neighborhood hero. Others say he's a violent cocaine and gun runner who needs to be stopped. A diplomatic imbroglio is brewing.