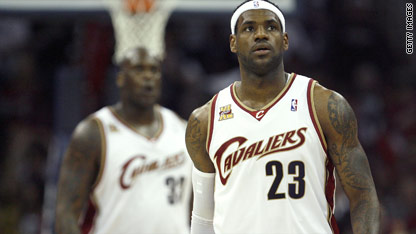 [Updated 7:45 p.m.] Read the full story on Lebron giving Cleveland the "edge" on CNN.com
[Posted 2:26 p.m.]Two-time MVP basketball superstar LeBron James is on the cusp of free agency. In an interview scheduled to air Friday with CNN's Larry King, James said his current team, the Cleveland Cavaliers, has the best chance of keeping him.
King: Do you lean at all toward the place you know the best? I mean do they have an edge going in ...
JAMES: Oh, absolutely.
KING: ... your home team?
JAMES: Absolutely. Because, you know, this city, these fans, I mean, have given me a lot in these seven years. And, you know, for me, it's comfortable. So I've got a lot of memories here. And - and so it does have an edge.
James has not talked to the media since the Cleveland Cavaliers were eliminated in the second round of the playoffs by the Boston Celtics.