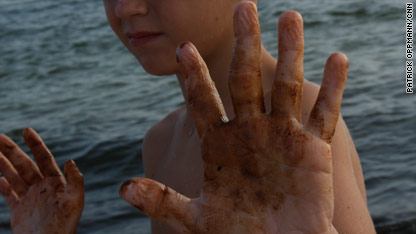 I've been to New Orleans, Houma, Gulf Shores, Orange Beach, Mobile, Pensacola....
That's not a bad reworking of the Johnny Cash song, "I've Been Everywhere," it's just a few of the places I have visited while covering the growing Gulf oil spill disaster over the last several weeks.
AS CNN has dispatched teams of journalists across the region to cover this vast story, I am constantly amazed by the dedication and tenacity of my colleagues.
For many, there have been too many 4 a.m. to 11 p.m. days to count. I have seen satellite truck engineers lug hundreds of yards of cable so a reporter can be live from an oil slicked coastline; photojournalists trudge down beaches to get that key shot and editors burn the midnight oil to make their pieces perfect.
Even more amazing are the stories that the people affected by the spill have shared with me.
There was the woman, a single mother, who eked out a living her entire life for her family catching shrimp and crab. On the day that fishing was closed because of the slick, I asked her what she was going to do for work. She had no clue.
There was the leader of a survey team that goes out and finds every piece of oil on a beach and photographs, measures and reports it so they can better understand how the slick is traveling. Sometimes, he said they do the same beach day after day as they are cleaned and then covered by oil again.
There was the little kid on the beach who came running up to his mother obviously terrified of something. As he sped by, he held up his oil covered hands. I am afraid, we are going to see a lot more of those kinds of images.