For days, CNN's small army of reporters, photographers and producers has been repositioning toward Florida as oil was expected to come ashore in the Sunshine State.
And on Friday morning, tar balls - hundreds of small bits of hardened oil - littered Pensacola's white beaches. Our iReporters had been saying they had spotted tar balls nearby and in different areas a few days earlier. So we set out to check the beaches.
Tourists were the first to begin cleaning it up. iReporter Marc Sigler said he had been camping in Fort Pickens on Tuesday when he saw tar balls; they spent the next day swimming, picking it up and cleaning the beach. iReport: See Sigler's photos
Further south on the beach on Friday, we saw blobs the size of a Frisbee of reddish-brown oil.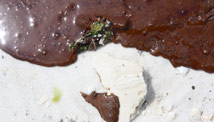 Nobody knew for sure whether the tar was from the Deepwater Horizon disaster. Local officials said that so much tar had been piling up that they didn't have the resources to test all the balls and blobs of oil locally, so they would be assuming that if they came in such large amounts now, they were probably from the disaster in the Gulf. Similar tar balls and oil slicks have shown up on beaches along the Gulf since the rig exploded and sank.
iReport: Help us track the oil disaster
Friday afternoon, reporters and residents got the answer they were waiting for: Florida's Division of Emergency Management issued a statement saying, "tar patties and tar balls have been confirmed in widely scattered areas east of Pensacola."
Reconnaissance flights are taking place to determine all of the locations nearby that may be affected. While that goes on, some tourists will keep on cleaning - and worrying.
Tourist Catherine Maloney looked at the blobs of oil with surprise and disgust before taking pictures of them.
"This is going to affect this area for years," she said. "It's already so quiet, it feels like a hurricane came."