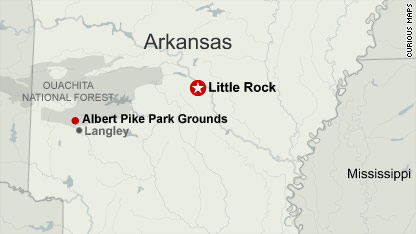 [Updated at 2:21 p.m.] At least 16 people died at an Arkansas campground after heavy rain and flash flooding, and many more could be trapped in the area, state authorities said.
[Updated at 2:21 p.m.] Emergency management officials in Arkansas said on Friday that at least 14 people have died in the flash flood there.
[Updated at 1:24 p.m.] Arkansas Gov. Mike Beebe told CNN there's word from the Red Cross that there could have been as many as 300 people in the rugged area of western Arkansas, but he said there is no registration that would show the precise number of people in the region - which is in the Albert Pike campground area.
Beebe said the water of the Little Missouri River rose from about 3 feet Thursday night to more than 20 feet early Friday in the U.S. Forest Service campground.
"It was a very rapid flash flood that inundated that area," Beebe said. "It's an unmanned campground in terms of being a campground with all the amenities."
He said rescue crews on foot, in helicopters, and in vehicles were combing the area. He said law enforcement, National Guard and parks personnel were working on the search-and-rescue efforts.
iReport: Are you there? Send photos, videos
[Updated at 11:33 a.m.] Two helicopters are searching the area of an Arkansas campground where heavy rain and flash flooding has left at least 12 people dead, a spokesman with the Arkansas State Police told CNN.
"We believe there are still people trapped in the area," Arkansas State Police spokesman Bill Sadler said.
Sadler said the department's main goal at this point is to "locate and assist in rescuing the living and pinpoint where other bodies" are.
He said helicopters were needed because the area around the Albert Pike campground in western Arkansas has several camping areas and is extremely rugged and remote. Sadler said officials are working with local volunteers who know the area well and a temporary morgue has been set up in the area.Sadler said the floodwaters are expected to recede throughout the day and officials expect the search will be an ongoing effort all day.
"It's going to be later today before we're confident we've got the living out of the area," he said.
CNN affiliate KARK is reporting the National Guard was asked to provide a a UH60 Black Hawk helicopter for the rescue, but it has not been able to take off yet because of weather conditions.
[Updated at 11:20 a.m.] At least 12 people died at an Arkansas campground after heavy rain and flash flooding, state police said Friday.
[Posted at 11:17 a.m.] At least six people died at an Arkansas campground after heavy rain and flash flooding, a Polk County sheriff's officer told CNN on Friday.
Sudden rain put as much as 3 inches of rain in one hour in the area and the floodwaters went through the campground, which only has one access road, Officer Cindy Martin with the Polk County Arkansas Sheriff's Office said.
She said the rain was so bad it wiped out phone service in parts of Howard, Pike, and Montgomery counties.
Martin told CNN there are still a "bunch of people still missing" in the area.