It hasn't been a storybook World Cup for the French – unless it's a horror story.
After failing to prove in their first two games that they are one of FIFA's top 10 teams, Les Bleus were summarily sent home from the Cup on Tuesday by the host, South Africa. Though hosts typically enjoy home-field advantages,
French media and fans will be reluctant to overlook that Bafana Bafana was ranked 83rd in the world when it took the pitch.
Following first-half goals from defender Bongani Khumalo and striker Katlego Mphela, South Africa played tight defense to hold on to a 2-1 win. France's best effort came late in the 70th minute when a stint of dazzling passing ended with a Florent Malouda goal.
France could muster no more – and with that, the 2006 World Cup runner-up saw its ticket back to Paris stamped. South Africa also failed to qualify for the second round after Mexico advanced via a tiebreaker based on goals.
At the final whistle an angry coach Raymond Domenech refused to shake hands with South Africa coach Carlos Alberto Parreira and he later told reporters: "The overriding emotion is one of sadness.
"We would have liked the dream to have continued. I shook hands with the players because we have been through some difficult times together. We need to be dignified in victory and defeat."
Back in France, Les Bleus will almost certainly be met with boos and hissing as the team's run-up to Tuesday's last group stage match was on par with a soap opera.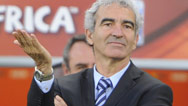 After reports that Domenech used the zodiac to pick his team, criticism erupted that he had left top players – including Arsenal's Samir Nasri and Real Madrid's Karim Benzema – at home. Several media outlets have taken to calling the French coach "Crazy Ray."
A halftime locker room argument between Domenech and Chelsea striker Nicolas Anelka ended with the prolific goal scorer being sent home after France's 2-0 loss against Mexico. Anelka's teammates later refused to practice in protest, and before Tuesday's game, Domenech benched star defender Patrice Evra and stripped him of his captain's armband. Domenech also benched several other star players.
It didn't help team solidarity that the French conditioning coach, as well as French Football Federation Director Jean-Louis Valentin, quit during the group stage.
French sports minister Roselyne Bachelot had been in France attempting to mediate between Domenech and his players. But on Monday night Bachelot told journalists the French players had "tarnished the image of France," according to French sports newspaper L'Equipe.
Domenech further said that his players' decision to strike was "unspeakably stupid." He called their actions "an aberration and an imbecility."
The group stage saga, of course, follows the infamous "hand of frog" incident, in which a handball by striker Thierry Henry resulted in a French goal that booted the Irish national team from the tournament.
See the 10 biggest World Cup upsets | World Cup Coverage | Twitter Buzz