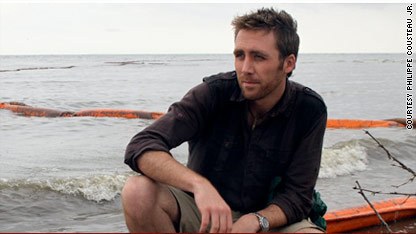 Philippe Cousteau is the 30 year-old son of Jan and Philippe Cousteau Sr., and the grandson of Captain Jacques-Yves Cousteau. As a member of the legendary family, Philippe is continuing the work of his father through EarthEcho International (www.earthecho.org), the non-profit organization he founded with his sister and mother and of which he serves as CEO. His goal is to engage and empower people to take action for a brighter future. His tools are simple – education, unbiased advocacy and a commitment to action.
Philippe Cousteau is committed to telling the important environmental and human stories impacting our planet. To that end, he has been a tireless advocate for the people and the wildlife in the Gulf of Mexico during the oil crisis, visiting the area and learning first hand the impact the disaster has had not only on the ecosystem but on the people who suffer as a result of the catastrophe. Speaking out about environmental issues through documentaries, media appearances, congressional hearings, books, articles and speeches, he provides perspective and compassion.
In addition to his work with EarthEcho International, Philippe is co-founder of Azure Worldwide (www.azureworldwide.com) a strategic environmental design, development and marketing company. Projects include work on environmentally-friendly resorts and destinations as well as environmental programming for eco-entertainment attractions from Washington DC to Bahrain and from Singapore to Florida.
Philippe is the Chief Ocean Correspondent for Discovery's Planet Green, where he works on various ocean and water-focused documentary programs. Along with his sister Alexandra, Philippe is the host of Blue August, an entire month of programming on Planet Green that celebrates our oceans. Philippe is currently a host for Oceans Blue, a new High Definition Discovery networks/BBC series which premiered in the UK in 2008 and will premiere in the U.S. on Planet Green in August 2010. In addition, he is the Chief Spokesperson for Environmental Education for Discovery Education; the #1 provider of K-12 broadband-delivered educational content to U.S. schools. Philippe is also the co-author of Going Blue, A Teen Guide to Guide to Saving our Oceans, Lakes, Rivers & Wetlands (FreeSpirit Publishing), which will be released in the summer of 2010.
Philippe has been featured in television and radio programs across the country. In 2008, he was named to Smithsonian Magazine's list of "37 under 36, America's Young Innovators in the Arts and Sciences." He has written articles for many publications including Sport Diver Magazine and National Geographic Magazine and has lectured at such institutions as The United Nations, Harvard University, and Woods Hole Oceanographic Institution. Philippe has also testified to Congress on issues of ocean management and off-shore drilling. He was recently profiled by Bob Woodruff in an ABC News/Planet Green documentary entitled 'Focus Earth: 6 People Saving Our Planet'.
Philippe serves on the Board of Directors of The Ocean Conservancy, Marine Conservation Biology Institute, and the National Environmental Education Foundation, as well as the Advisory Board of Discovery Communications Inc.'s Planet Green and the National Council of the World Wildlife Fund. He holds a Master's degree in history from the University of St. Andrews.
Philippe's travels have taken him diving, rock climbing, trekking, and snowboarding around the world. From expeditions in the highlands of Papua New Guinea to war-torn Sarajevo, where he provided humanitarian aid, he has learned that exploring the connections between humans and the environment are as important as exploring nature itself.