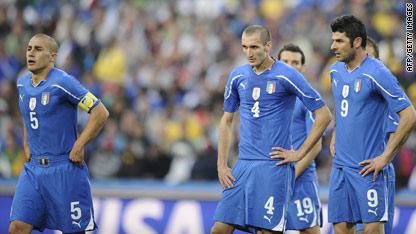 Italy's World Cup title defense came to an embarrassing end with a dramatic 3-2 defeat by European footballing minnows Slovakia on Thursday
The Azzurri followed 2006 runners-up France in making a first-round exit despite a frantic finale in which they had a goal disallowed.
Slovakia progressed into the last 16 along with Paraguay, who topped Group F despite a 0-0 draw with New Zealand.
The Kiwis were knocked out of the tournament despite finishing unbeaten with three draws - a sharp contrast to their only other finals appearance in 1982 which ended with three defeats.