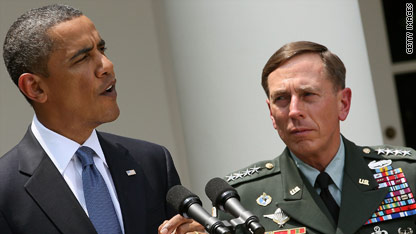 Here are the latest developments involving Gen. David Petraeus, who has been chosen to replace Gen. Stanley McChrystal as the top U.S. commander in Afghanistan. McChrystal was relieved of duty after he and his staff made comments in a Rolling Stone magazine article that appear to mock top civilian officials, including the vice president.
NEW DEVELOPMENTS
- Petraeus said Thursday that he supports President Obama's July 2011 deadline to start withdrawing U.S. troops from Afghanistan. Petraeus' comments to CNN's Dana Bash were his first public remarks since being tapped as the new U.S. commander in Afghanistan.
- Petraeus' confirmation hearing is scheduled for Tuesday morning, according to a statement from Senate Armed Services Committee.
 PREVIOUSLY REPORTED
- The top U.S. military official said he backs the president's decision to remove McChrystal from his command post. "I'm very supportive of the president's decision," Joint Chiefs Chairman Adm. Mike Mullen said at a Washington event Thursday.
- Karl Eikenberry, the U.S. ambassador to Afghanistan, said Thursday that McChrystal apologized to him for disparaging remarks in the article about Eikenberry and other officials.
- Defense Secretary Robert Gates backed keeping McChrystal on the job because he was vital to the war effort in Afghanistan, but he was overruled, a senior Pentagon official told CNN's Barbara Starr. The official has direct knowledge of the events but declined to be identified because of the internal administration discussions.
- NATO's acting commander in Afghanistan insisted Thursday there is no change in the Afghanistan mission in the wake of McChrystal's firing. "We remain absolutely focused on our tasks and the operational tempo will not miss a beat," said Lt. Gen. Sir Nick Parker, who assumed command pending approval of Petraeus' nomination by Congress.
- The spokesman for Afghan President Hamid Karzai said Wednesday that "we will respect" Obama's decision to name a new U.S. military commander in Afghanistan. The spokesman, Waheed Omar, called Petraeus "an obvious choice" to take over from McChrystal.