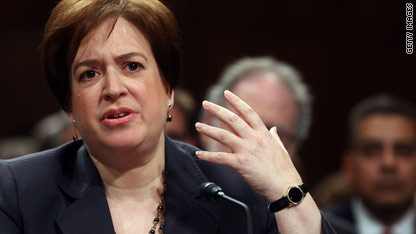 [Updated at 5:40 p.m.]
Testimony concludes for the day until tomorrow afternoon, following a six-hour recess while the body of Senator Robert Byrd lies in repose in the Senate chamber.
[Updated at 4:45 p.m.]
In an exchange with Senator Amy Klobuchar of Minnesota, Supreme Court nominee Elena Kagan learns that the first woman to serve on the Senate Judiciary Committee came after the Anita Hill hearings in 1991.
[Updated at 4:25 p.m.]
Supreme Court nominee Elena Kagan sidesteps Senator Tom Coburn's question of whether she believes Americans have a "fundamental, pre-existing" right to bear arms, choosing instead to say she would follow the law.
"To be honest with you, I don't have a view of what are natural rights, independent of the Constitution, and my job as a justice will be to enforce and defend the Constitution and other laws of the United States," she says. 
"I'm talking about Elena Kagan. What do you believe? Are there inalienable rights for us? Do you believe that?" Coburn presses.
"I think that the question of what I believe as to what people's right are, outside the Constitution of the laws, you should not want me to act, in any way, on the basis of such belief," she says.
"I think you should want me to act on the basis of the law."
Watch the exchange on Elena Kagan's stance on gun ownership
[Updated at 4:15 p.m.]
Kagan says she believes that it is important for Americans to have confidence in the Supreme Court.
"I think the welfare of the country is certainly best served if the American people have confidence in the Supreme Court," she says.
[Updated at 4:05 p.m.]
Senator Coburn of Oklahoma returns to the topic of Miguel Estrada, a constitutional law attorney and Kagan's seatmate at Harvard, who wrote a letter endorsing her.
President Bush nominated Estrada to the D.C. Court of Appeals, but Senate Democrats used a filibuster to prevent his final nomination on the Senate floor. Kagan says she did not write a letter of endorsement for Estrada's nomination because she was not asked to. She also says that she would have voted for him if she were on the committee overseeing his confirmation.
"I said he is a great lawyer and great human being and I think he'd be a great judge," Kagan says.
"If you were sitting up here, you would've voted for him?" Â Coburn presses.
"Yes," she says.
[Updated at 3:20 p.m.]
Addressing controversy that has surfaced over comments that some Republican members of the Senate Judiciary Committee made yesterday about Justice Thurgood Marshall, Senator John Cornyn asks nominee Elena Kagan if she considered the remarks disparaging.
"Senator Cornyn, I take everything that's been said here from all the way around the bench as people operating in good faith and certainly I've gotten nothing but fairness and courteousness from everybody, from every member of the Committee," says Kagan. 
"And I take no offense on behalf of myself, or on behalf of Justice Marshall or on behalf of anybody else at anything that's been said here."
In remarks yesteday, Cornyn and Senator Jon Kyl of Arizona attacked Marshall a liberal "activist" and expressed concerns over Kagan's association with him as his law clerk. In response, Kagan said that she respects Marshall, but that if confirmed, the panel would get Justice Kagan, not Justice Marshall.
[Updated at 2:27 p.m.]
Kagan told members of the Senate Judiciary Committee on Wednesday that she has "no pre-existing views" on questions relating to habeas corpus rights for prisoners being held at U.S. military bases.
[Updated at 1:05 p.m.]
Sen. Arlen Specter said he is frustrated with Solicitor General Elena Kagan's answers to several of his last questions - on specific cases that Kagan has played a part in during her official duties. Kagan refused repeatedly to offer specifics about how she would rule on any cases dealing with congressional enforcement power - the issue of proportional and congruence test established in a court case a few years ago - and a case specter has long criticized.
After Kagan refused to answer, Specter again referenced Kagan's earlier written belief that the nomination process had become somewhat of a farce with barely any substance.
"I think the commentaries in the media are accurate," Specter said, referring to articles that was Kagan's belief and perhaps it was ironic that she was not answering questions substantively. "They say we haven't had them here and I'm inclined to agree with them. You have followed a pattern that has been invoked [for a long time]. It would be my hope that we can find some place between voting no and having some sort of substantive answers, but I don't know it would be useful to pursue these questions any further."
Kagan was confirmed as Solicitor General by the Senate in March 2009, a month before Specter abandoned the Republican Party. At the time, Specter voted against Kagan for a similar reason - she wouldn't answer questions to his satisfaction.
During the end of his questioning of Kagan today, Specter asked that it be put into the record the questioning he had with Chief Justice John Roberts during his confirmation hearing and a ruling, in which he wrote an opinion completely opposite of what he had told the committee during his hearing. Specter said he had concerns that without substantive answers, it is difficult to judge of Kagan is right for the job.
[Updated at 12:45 p.m.]
Sen. Grassley wants to know if Kagan believes marriage is an issue for the states to decide.
"There is of course the case coming down the road and I want to be extremely careful about this question and not to in any way pre-judge any case that came before me," Kagan said.
[Updated at 12:43 p.m.]
Sen. Grassley asked Elena Kagan if she believes the President has the authority and power to prohibit guns without legislative authority.
"I never believed the President had the authority," Kagan said.
"He didn't have that before " the court case and "he doesn't have it now."
[Updated at 12:02 p.m.]
Sen. Orrin Hatch says he has concerns about a memo from Elena Kagan on late-term abortions where he claims she took a highly political stance when she said the American Congress of Obsetricians and Gynecologist's (ACOG) planned statement ahead of a court case would be a "disaster" to the government's case on the issue.
"Did you write it?" Hatch pressed several times, when Kagan stumbled to say if it was her memo or notes taken from a conversation.
"The disaster would be if the statement did not accurately reflect all of what ACOG thought," Kagan said, explaining what her statement meant at the time. "I recall generally, talking to ACOG about that statement, and whether that statement was consistent with the views we knew it had."
Hatch was referring to the fact that Kagan drafted some language which ended up being the exact wording of ACOG's eventual statement which was used in the controversial late-term abortion court case. Hatch argued it meant Kagan had a direct influence on the end result of the case.
"That bothers me," Hatch said. "That you intervened in that area in that way."
"There was no way in which I would have or could have intervened with ACOG ... to change its medical views on the question," Kagan replied. "This was an enormously hard issue."
Hatch said that he knows several members of ACOG who did not agree with the eventual wording of the statement.
[Updated at 11:44 a.m.] Supreme Court nominee Elena Kagan asserted Wednesday that she provided an "equally effective substitute" when, as Harvard Law School dean, she denied military recruiters access to the campus Office of Career Services and instead required them to use the veterans services office.
Republicans have questioned Kagan's role in altering military recruiters' access at the school because of the military's "don't ask, don't tell" policy barring openly gay and lesbian soldiers from military service.
"I appreciate that reasonable people can disagree about this issue," she said, but the military "had excellent access to our students."
[Updated at 11:33 a.m.]
Supreme Court nominee Elena Kagan asserted Wednesday that, as solicitor general, she has acted "consistently with the responsibility ... that I have" to defend current laws, "including the statute that embodies the 'don't ask, don't tell' policy" barring openly gay and lesbian soldiers from military service.
Republicans have question Kagan's role in limiting military recruiters at Harvard Law School because of the "don't ask, don't tell" policy. Some Republicans have said Kagan, who was the law school dean, sought to treat the military as second class by denying recruiters access to the campus Office of Career Services and instead requiring them to use the veterans services office.
Kagan said Tuesday that "we were trying to ensure that military recruiters had full and complete access to our students, but we also were trying to protect our anti-discrimination policy." She said recruiters still had access to students through the separate office.

[Updated at 11:07 a.m.]
Supreme Court nominee Elena Kagan declined Wednesday to directly criticize recent Republican characterizations of former Justice Thurgood Marshall as an "activist" judge.
She did, however, note that Marshall "revered" the courts for considering his civil rights claims at a time when other branches of government would not.
Kagan clerked for Marshall. She noted that he "lived in a time ... and lawyered in a world in which many doors were closed to him." He expected only that courts would rule for him if he was right on the law, she said.
[Updated at 10:37 a.m.]
Sen. Al Franken is asking Kagan about what role the Courts should play in looking at statutes passed by Congress.

"Congress gets to make the laws," Kagan said. "And what the Courts should be doing in applying those laws is trying to figure out what Congress meant and how Congress wanted the laws to be applies. And that's the only thing the Court should be doing."
"Where the text is clear, the Court should go with the text," she said.
[Updated at 10:32 a.m.]
Supreme Court nominee Elena Kagan said Wednesday that Congress has broad authority to regulate financial markets under the Constitution's interstate commerce clause. Courts have a role to play, but should recognize that they "are not the principal players" in that issue, she said.
[Updated at 10:25 a.m.]
Sen. Kaufman has asked Kagan about how she believes the Court can ensure regular Americans have the same access and fairness before the justices as large corporation with plenty of money to spend.
"If you're right on the law it doesn't matter" if your opponent has more money than you do, Kagan said.
"Every single person who comes before the court should be considered equally and every single claim should be considered" the same way.

[Updated at 10:25 a.m.]
Kagan said Wednesday that "results-oriented judging" is tantamount to picking sides, and that is "the antithesis of what a judge should be doing."
"To be a results-oriented judge is the worst kind of judge you can be," she said.
Kagan made her remarks in response to Delaware Sen. Ted Kaufman's critique of the high court's recent campaign finance ruling in Citizens United
v. Federal Election Commission. She declined, however, to characterize the Roberts court as "results-oriented."
[Updated at 10:03 a.m.]
Sen. Ted Kaufman has brought up one of the biggest concerns conservatives have vocalized since Kagan was nominated - her policy work with Democratic administration. Kaufman asked her to address the concerns of those who feel her past experiences and jobs may mean she can't be an independent justice.

"As a judge you are nobody's team," she said. "Your job is to evaluate the law and evaluate the facts and apply one to the other."
Kagan cited the example of Justice Robert Jackson, a Democrat who served as solicitor general and attorney general during Franklin Roosevelt's administration. Once appointed to the Supreme Court, "he was as independent as they come," she said.
"When you get on the bench, when you put on the robe, your only master is the rule of law. Regardless what political administration you worked for in the past, and there are many justices on the Court who have worked for Congress or the executive. But, just as all of them have, if I'm fortunate enough to be confirmed, I'll put on that robe and be independent and not favor any political party."
[Updated at 9:55 a.m.] Asked to comment on the role of the First Amendment and media, Supreme Court nominee Elena Kagan said Wednesday "I think people should be able to write anything they want about me, and I don't think I should be able to sue them."
Kagan strongly praised the famous media case New York Times v. Sullivan. There should be "an extremely high bar" for libel cases involving public figures, she said. But "reputational harm is real harm," she noted.
[Updated at 9:44 a.m.]
Sen. Klobuchar asks Kagan about a paper she wrote before law school, references a few times on Tuesday, in which she talked about how the Supreme Court has the power to block and change major social, economic and political issues - and that surely that could be an irresistible temptation. Klobuchar wants to know how Kagan will resist that temptation.
"Let's just throw that piece of work in the trash, why don't we," Kagan joked, about the paper, noting again she wrote it before she went to Law School. "I didn't know or understand that much about law."
Besides the joke, Kagan made sure to remain serious about the concerns voicing again that she believes there is a high duty in being a Supreme Court judge that she wouldn't ignore.
"Every judge, has to be committed to the kind of principles of restraint that I've tried to talk about in this hearing and every judge has to realize that the people of this country get to make the fundamental decisions about this country."
[Updated at 9:35 a.m.]
Supreme Court nominee Elena Kagan said Wednesday that she only partly agrees with Chief Justice John Roberts' famous argument - made during his high court confirmation hearings - that judges should act like neutral umpires who merely call "balls and strikes."
The analogy is "correct in certain respects, but like all metaphors it does have its limits," she told members of the Senate Judiciary Committee.
It's correct insofar as a judge shouldn't root for a certain side in a case, she said. "If I want every call to go to the (Philadelphia) Phillies, that's a bad umpire," she said. A judge should be "neutral" and "fair."
Kagan continues to emphasize that she doesn't intend to be a politically motivated judge, before joking, "That's not your team, right?"
"You're looking at law and only at law," she said, adding personal values should be left out. "We know every case is not 9-0. Those legal judgments are one in which reasonable people can reasonably disagree sometimes. So sometimes law does require some kind of judgment, some kind of wisdom. And there are frequently clashes of constitutional values."
[Updated at 9:32 a.m.]
Sen. Amy Klobuchar began her questioning of Elena Kagan with a few jokes of her own, perhaps following the path of the nominee herself, who has invoked humor throughout the process. Klobuchar said after a long day Tuesday, she assumed Kagan didn't get to the new "Twilight" movie premiere.
"I keep wanting to ask you about the case of Jacob versus Edward or Vampire versus werewolf," Klobuchar said. "But, I know you can't comment on future cases, so I'll leave that alone."
[Updated at 9:13 a.m.]
Sen. Sheldon Whitehouse is pressing Supreme Court nominee Elena Kagan about what the court's intention is and that over a recent period of time there are a lot of close 5-4 decisions recently attempting to move the court in a certain political direction.
Kagan refused again, as she did Tuesday, to discuss her feelings on the current course, but instead said that she believes the court should strive to reach consensus as much as possible on cases before them.
"One of the benefits of narrow decisions is that they enable consensus to a greater degree," Kagan said. "Approaching one case at a time and trying to think of the narrowest way to decide the case is to enable consensus. Consensus is in general a very good thing for the judicial process and the country."
Kagan said Wednesday that "every judge has to do what he or she thinks the law requires." But "the court is served best and our country is served best when people trust the court as an entirely non-political body."
Sen. Whitehouse asked Kagan whether she thought that consensus, if reached, meant that the court could move along in a certain political direction easier.
"I think what a judge should do is not think about the long-haul" and what it means politically, Kagan said. "What a judge should do is take one case at a time. I don't think agendas are the way someone should conduct business."
"I know that's what you think," Whitehouse quipped back, trying to get her to answer further and elaborate on her position.
But Kagan didn't waver. "I can only tell you what I think," she said.
[Posted at 9:05 a.m.] Supreme Court nominee Elena Kagan opened the third day of her Senate confirmation hearings Wednesday by expressing respect for the notions of judicial restraint and precedent.
The idea of respecting judicial precedent is a "doctrine of humility" that "binds judges" to the law, she said.
A sense of humility is important, she said, because "there is no political accountability (for the Supreme Court) and there ... are precious few ways that the president (or Congress) should interfere with" the work of the Court.
[Posted at 9:00 a.m.] Supreme Court nominee Elena Kagan is facing another round of questioning from senators Wednesday after mounting a spirited defense against her critics the day before. By late Wednesday morning, the Senate Judiciary Committee could go into closed session where Kagan's FBI background check is likely to be discussed, as has been the practice in past hearings. We've learned some interesting things about Kagan - including her quick-witted humor - during the first round of questioning Monday.
We'll be breaking down the big exchanges and events during Wednesday's questioning and bringing you the testimony live all day.